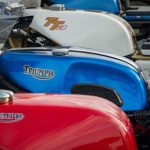 Cadwell Park 25th and 26th July 2019
Beezumph was back at Cadwell Park for the first time since 2015 and was again planned to take place over 2 days but because of lack of availability on weekend days we accepted a Thursday and Friday booking. Initially I had been tasked with sorting the ride-out for this year, a task which I was looking forward to carrying out, in the end with things turning out the way they did I ended up doing a lot more than just the ride-out.
As I live relatively close to Cadwell, just under the hour, I was the obvious choice to attend any meetings and deal with the staff there. We had been given the names of service providers who have all the relevant safety and hygiene paperwork and more importantly Public Liability Insurance in place to provide their services at Cadwell Park. The planned programme was to have the ride out on Thursday afternoon, bike jumble in the late afternoon and then the guest speaker in the evening, Friday was to be the track sessions. A start was made on arranging Marquees, generators, catering, portable loo's for near the Marquee, The bike jumble would look after itself and the speaker for the evening was arranged by Richard Davies. Graham Redrup was sorting the band for Friday Night and Dave Bloor was inviting the Honorary guests. There was also a PA system and a way of showing a power point presentation needed. A few thoughts were going through my mind for the ride out and one idea I had was to head to the North of the county and incorporate a stop at one of in my opinion the best Fish and Chip Restaurant on the East coast, but then I thought where do you find parking for hopefully 60 plus motorbikes? So thinking logically that was a non-starter! I then resorted to the maps and looked around the area of Cadwell Park and remembered East Kirkby and the Lincolnshire Aviation Heritage Centre which is a few miles South near Spilsby. This I thought would be an ideal place to stop off. I rang the centre up and asked them if the Lancaster was being run up on the day we planned to drop in and very luckily for me it was to be run up and Taxied on the 25th July, so at this I booked a party of 60 people in. Result! I then worked the route out round the visit to the Aviation Centre. There were still lots of other jobs to be done before we got to Cadwell but it was fast looming up!
A last check with the suppliers the week before we were due to be at Cadwell made sure everything was set for B28. On Wednesday 24th I went over to Cadwell in the afternoon to check everything was as it should be, I had been concerned about the relatively small area we had been allocated for the campers on Friday night after the BBQ and Band, after I was satisfied everything was set up as planned it was back home to load the trailer and car up with everything I needed with me. Thursday morning dawned and with the forecast of one of the hottest days on record I hooked the trailer up, kissed the wife and set off for Cadwell. First job on arrival was to find Graham Redrup and Dave Bloor, just to make sure there were no problems. The Circuit Manager had been trying to get hold of me with one or two little problems so I went to see him and iron things out. The merchandise Gazebo was set up in the paddock to sell B28 tee shirts and other club merchandise. It was now getting close to the time we should have been assembling for the ride out, so another visit to the circuit office to ask if they could make an announcement asking for riders to assemble at the top of the field at which point I was handed the key to the paddock office and told where the microphone was and how to operate it and to bring the key back when I had finished!
The newly named 'Les Williams Memorial Ride Out' assembled, this will now be an annual event. Richard Davies gave a briefing to all riders on how we were going to operate the ride out with the second man drop off system and at approximately 12:30 we set off in blazing sunshine and with the mercury very high! The run down to East Kirkby passing through Horncastle was uneventful if a bit hot. On arrival at East Kirkby we all pulled up and parked under a line of trees the shade being very welcome. A video was put on Facebook of us all pulling out of the assembly area at Cadwell and I counted 65 bikes setting off, and there was a couple of riders met us there. A total of 79 went through the door of the Aviation Centre. The Lancaster 'Just Jane' was still in the hanger when we got there and the staff were working on it. Eventually they pushed it out into the sun and what a beautiful sight it was, everybody was cleared from behind the aircraft and the starting procedure began, engines started one at a time until all four were running and checks carried out ready for taxiing. When the pilot was happy the revs built and 'Just Jane' started her performance, the noise from those four Merlin engines is almost as good as a triple on an open mega! Once the running was completed we gathered ready for moving on with the run all of which went without hitch, after we left the Aviation Centre we turned North East for a few miles before turning North and heading for Louth and then from Louth the short run back to Cadwell in all we had done just short of 60 miles.
Once back at Cadwell it was time to set out the tables for the bike jumble for members to buy and sell their treasures.
After the jumble the marquee was set up for the guest speaker who was Neil Spalding who is an author and Moto GP technical Journalist. I had never heard a talk by Neil before but knew he gave good talks and I definitely wasn't disappointed, his talk was absolutely brilliant and as someone commented on the club web page, we were in a field but you could have heard a pin drop such was the interest he created with his talk and knowledge of his subject. Neil's talk brought the days proceedings to a very good conclusion.
Friday we woke to a fine morning and the prospect of a busy day. Signing on and noise testing began as scheduled at 07:30 all carried out by Cadwell Park staff. The briefing held in the clubhouse between 08:15 and 08:45 given by Graham Redrup, followed at 09:00 by the track opening and the sessions beginning. I was booked in to ride in the Classic group and was also marshalling the first two laps of the first session of every group and also the entry level riders. Pit lane crew made sure all groups were dispatched in an orderly and timely manner by Graham Redrup, Clive Blake and Elliot Blake. After lunch there was a 10 minute unsilenced parade of a few racing machines, these included the BSA Rocket 3 which is owned by Mike Braid and a Norton Commando also owned by Mike Braid, an ex Carlos Checa WSB Ducati, a 500 3 Cylinder MV Agusta the same as Agostini raced and Mark Gelsthorpe's 'Flying Merkel' board racer, this was an entertaining 10 minutes and great to hear race bikes unsilenced, this was a dispensation given by Cadwell for 'Parades Only' with restrictions! Track sessions started again after the parade and carried on until the track closed at 17:00 hrs. After the track sessions were over preparations were made for the band 'Rickshaw' and for the BBQ in the marquee. The bike line up was formed in front of the marquee and judging carried out for all categories, the raffle was also held outside the marquee with a good range of prizes some bought by the club and others which were donated by organisations approached by the club. We are pleased to see Jim Smith's luck in the raffle is holding out! Although I had to leave Cadwell before the band started I was told that they were one of the best bands we have had at Beezumph playing a wide variety of music and being very popular with the crowd.
Merchandise sold fairly well and a massive thanks go out to the volunteers who selflessly manned the stand over the 2 days for no reward!
A big big thank you from me and the rest of the committee.
Dougy Beardsall
Videos Richard Davies and Angus Campbell
This is the route of the run at this year's Beezumph 25 which will take place on Friday 9th September. We will be assembling at 12:30pm to set off at 1:00pm prompt. It will be a led run of approx 60 miles with a stop off for tea/coffee and cakes. We will be following the second man drop off system so no one gets lost, this will be briefed out before we set off.
https://drive.google.com/open?id=1kjG0Xajbuy7-HYxfLhzmjAHumrc&usp=sharing
The TR3OC AGM is to be held at The Best Western Plus Manor Hotel, Main Road, Meriden, CV7 7NH,  on the weekend of the 19th and 20th of November. Guest Speaker on the Saturday evening will be Lionel Goulder who worked for BSA and covered many miles promoting the Rocket 3.  This is sure to be a fascinating evening and is not to be missed! Contact Dave Bloor on chairman@tr3oc.com to book your place at the evening dinner.
If you'd like to book a hotel room for the Saturday night, call 01676 522735 and mention TR3OC when booking.
The "Das Motorrad" Commemoration Run is this weekend with John Young, Norman Burrows and George Heeres making the epic journey.  You can follow their progress here:
Tuesday Update from John Young:
Today started with a 56km durst track journey to the start line.
Once we were there out official start time was 10.09 & so we had about a 30 minute wait. We got talking to a team of Spitfire pilots (yes that sort of spitfire !!) and afterwards to another competitor who warned us that there was a section that we would get stuck in.
Although the organisers assured us that they were quite prepared to recover us (again), we have already learnt that this is a dangerous event and tying up the organisation "rescuing " us from a situation that we knew we would be getting into would potentially mean a real emergency would be compromised. We decided therefore to cross the start line , "have a play" and then take the long route around to the finish control.
So off we set. After about 6 miles into the desert the bike went onto 2 cylinders and so plan a had to be shelved and we limped back to the start. It turns out that all we had done was shake a ht lead out of a coil. You need to understand that 6 miles desert riding subjects the bike to something like 600 miles road riding – it really is that bad ……
so then we had the long 300 km haul to Mesourga.
On the way we headed off for 20 minutes or so into the desert again and really caned the bike. It held together well and performed brilliantly which has given me a lot if confidence.
However we came back with a flat rear tyre …..
We still had 50kms to cover yo the finish control and so we were about to test my theory as to whether the tyre would run flat. For the most part it did although we have " totalled " the tyre (I'll send pictures later)
That will be Chris and Eugene's first job. We're going to try a moose this time. We'll get one from another team.
Oh, we missed the cut off time for our check in by 15 minutes or so – about the time we spent arsing about in the desert. Heck, who cares. It was fun ….
I suppose some of you may be thinking that we're not taking this seriously. On the contrary we are. We said from the start that our mantra would be if in doubt, don't. This is a competition where you could die and we don't want that to happen. its tough enough riding a classic machine at the best of times, let alone in Morocco and then in the desert
We are learning more and more each day about what it takes to compete in this event and also compete on a triple. Tomorrow we will see how to tackle sand and the dunes. This adventure has now turned into a training course as we will be coming back again and be the time we will be more prepared, for now, each day teaches us more.
Oh, one last thing for the next three nights we are sleeping on mud huts !!!
So, I hope that you are enjoying the reports and pictures and don't forget to check out the daily videos posted on you tube.
and as of tonight we are still in front of every H*nda CB750 entrant …… lol !!
And not to forget Chris Rooke and Eugene Hudson who are driving all day, refuelling and working their butts off to keep the bike on the road, no mean feat in this heat and environment.
Wednesday
Thursday update :
The team sat down last night to plan our strategy for the next 3 days. We are going to spend today trying to get the rear wheel correct. We've run out of suitable tubes so we have to make the mousse work.
Tomorrow we will get the outfit trailered back to Zagora ( to protect the mousse as they don't enjoy continuous lengthy road use).
Hopefully then we will be able to tackle Saturdays stage in full
Friday
Today we head back to Zagora and so you will see our Spot moving again.
We have now given up on tubes for the rear wheel and now have a mousse fitted.. Another team helped us and fitted it for us. Here's a couple of pictures of the "process"
The club held its 2015 Annual General Meeting, at the Best Western Plus Manor Hotel, Meriden on Sunday 1st November.
The speaker at the Saturday evening dinner was Neil Spalding, MotoGP technical expert and one of the very first TR3OC members.  His talk was the absolute highlight of the evening and he held everyone's close attention as he drew parallels between two key aspects of racing triples design and their modern counterparts in MotoGP.  It was also a delight to witness some of our Honorary Members such as Norman Hyde, John Woodward, Bill Fannon and Arthur Jakeman adding their own knowledge and experiences from the days of the Triumph Experimental Department to Neil's talk.
During the AGM on Sunday, there was lively debate on a number of topics and it was good to see so much positive input coming from the membership.  Clive Blake stepped down from the committee as Machine Registrar and Graham Redrup was voted in as his replacement.  John Young has given up his role as Archivist and we now have two members volunteering to take on the job between them: David Turner and Dominic Kramer.  Thank you to Clive and John for their contribution and also to everyone who attended the meeting.  There will be a more complete report in the next edition of Triple Echo.
It's 2015 and the NVTBSAEROC (the bastard child of the TR3OC) were looking for their next silly adventure. Having ridden NVT Easy Riders from John O'Groats to Lands End, Blackpool to Paris, around the Isle of Man, to Ostend for a weekend of fun and even stuck a pulse jet on one, this time they decided to go Endurance Racing at the RAF Wittering Mopedathon. It all looked simple enough ….. Get yourself a moped, form a team and then turn up in fancy dress and do as many laps as you can in 6 hours.
A team of five was created, John Young, his eldest son John Jnr, Martyn Worlock, Richard Davies and Peter Nicholson.  Peter bravely put his NVT ER2 forward as the Endurance Racer.
Racing number boards were affixed and "60" was adopted as the team number – the same as the T160 Production Race Bike Son of Sam used at the 1976 TT. This is the TR3OC after all !!
Despite some harrowing moments, the little ER2, producing all of 1.6bhp at 4500rpm (when it was new, 38 years ago!) made it through to the end after 6 gruelling hours.
Finishing in a creditable 35th place out of 48 entries, the highlight of the day was receiving the Max Wilson Trophy for the team that best entered into the spirit of the event.
Watch out for a full report with more pictures in the next issue of Triple Echo.
The "Le Mans" style start….
Le Mans style start ……..

Posted by John Young on Sunday, 3 May 2015
Richard Davies at speed….
Richard Davies at speed ………

Posted by John Young on Sunday, 3 May 2015