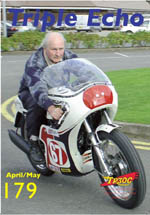 Triple Echo is the magazine of the Trident & Rocket Three Owners Club. Usually comprising 64 pages and in glorious colour, it is published bi-monthly and posted to club members all over the world.
Here members can retrieve and view past copies of the magazine. The magazines are viewable on all types of PC, tablet and mobile devices. The viewer has a "table of contents" button so you can go straight to any article listed (from TE180 only). You can search for any word within each issue and also select pages to print if you want a hard copy to use in the garage!
To help you find a particular article or topic within the archive, here is an index of articles. This can be viewed using Adobe Acrobat Reader and is searchable.
Non-members can see a few sample articles from past issues of Triple Echo in the Triple Tales section of the website.