Please follow the link below for the full information on this year's Beezumph.
Just under 2 month's to go to our spectacular event with a few surprises in store, more information to follow.
If anyone wants any further information, please contact Martin Rawson – events@tr3oc.com
Rich
The stickers have arrived for our 2022 Paul Fields Derbyshire Rally! A big thank you to Tom Concannon for providing these free of charge. We will be selling them at our event for a small charge with proceeds going to our nominated Ashgate Hospice and Motor Neurone Disease charities.
please see our events section for full details or contact myself on webeditor@tr3oc.com or Julie Turner julieturner012@gmail.com
Rich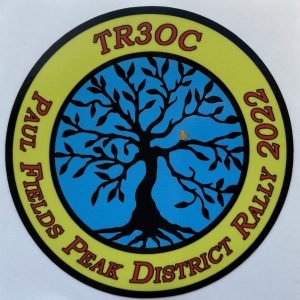 Mad march rally
Hotel check in is 3pm.
Just to let everyone know we will be sitting down for dinner at 6pm on both evenings,
If anyone believes they won't make it for then, please will you ring up the hotel and let them know, hopefully they will sort something out for you speak to either James or Janet.
Additional to this we have our own parking space for the bikes which is out of veiw, there is a arch way at the side of the main entrance which leads to a central courtyard,if you are in a car then if you carry on through the archway to the back of the hotel there is parking there,no bikes to be started before 10am in the morning.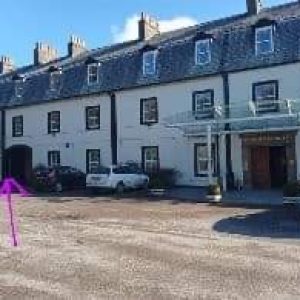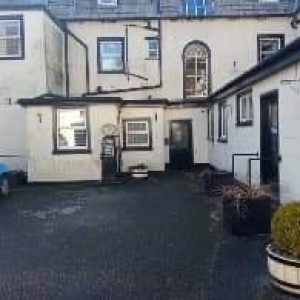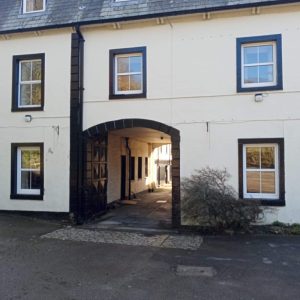 Mad March Rally Ride out menu
please note we have been asked to pre order our food for the ride out
menu is below please message me via messenger with you choice,if there is anyone going that isn't in the 21st century please could you inform them if you know of such a dinosaur
Cold Sandwiches – served on white/brown with salad & coleslaw
Beef with horseradish – £6.95
Prawns with marie rose sauce & lettuce – £7.25
Cheddar cheese & chutney – £6.75
Hot ciabattas – served with salad and coleslaw
Salt & pepper chicken with lettuce & lemon mayo – £7.95
Roast beef, mushroom, onion – £7.95
Cheese & onion – £6.95
Cheese & bacon – £7.25
Jacket Potatoes – served with salad garnish
Plain (with butter) – £5.50
Coleslaw – £6.75
Cheese – £6.95
Beans – £6.95
Three egg omelette – served with salad £6.50
Toppings (onion, mushroom, tomato, bacon, cheese) can all be added for 60p
Bucket of thin/chunky chips can be added to any of the above for £2.50, and a bowl of our soup for £3.25
there are a few names i can't tag to this Rob lyttelton and Alan Gerrard
if anyone could bring this to there attention please
cheers all
please give Keith Berry your order by next Sunday 07709 975610
Last call for bookings 20th February
25th to 27th March 2022
At the Shap Wells Hotel Cumbria
£50 per person per night with 2 sharing a room.
£70 per night single occupancy.
Includes evening meal and breakfast, à la carte menu available with upgrade fee.
Please contact Janet for booking and mention the tr3oc – 01931 716628
email- groups@shapwellshotel.com
This is the last call for rally goers for the mad march rally last booking date is the 20th Feb
Prices are as follows £50 per person sharing a room and that is for dinner bed and breakfast
Single room occupied are £70 per night for dinner bed and breakfast
Check in times are 3pm and check out 11am
The rate had been reduced due to some admin problems at the hotel.
Hopefully the weather will be kind to us as it has been for the last few years in March. We will have a ride our on the Saturday of approximately 75miles.
Looking forward to seeing everyone soon. Keith Berry organiser
Paul Fields Peak District Rally 2022
Due to unforeseen circumstances The Holly Bush Inn where the 2021 Paul Fields Rally was held has now unfortunately closed. We have sourced another venue in the Peak District willing to accommodate the Rally. This is the Miners Standard pub and campsite at Winster. This venue has excellent facilities with limited accommodation. However, we cannot have the 2022 dates we had planned. Therefore, we will be changing the date to 22nd to 24th July. If you are interested in attending this rally, can you email julieturner012@gmail.com to book a place. More details to follow.
Following the debate and subsequent vote at the AGM the status of the Facebook page will be changed to that of a closed group. It will be open only to TR3OC members.
The decision to inform you by email has been taken so that everyone for whom the Club has a valid email address will receive this message at the same time. Whilst Triple Echo is the proper method of communication, the concern is that this change will have taken place before Triple Echo is delivered to all members.
The Facebook page will be paused on Monday 29 November 2021 and will remain so until the change is complete.
If you are currently a member of the TR3OC and a member of the Facebook page you will hopefully remain so. However, if you find that you have been removed, please don't take it personally. Carrying out an operation of this magnitude without any issues is unlikely. If you use a nom de plume rather than your actual name there is a high probability that your account will be removed. If this happens, please re-apply to the Group supplying your real name and Membership number along with your nom de plume to the Membership Secretary and you will be re-added.
The Facebook page will be open to all members.
Peter Nicholson
TR3OC Chairman
Paul Smart, short circuit motorcycle racer and Honorary Member of the TR3OC, tragically lost his life in a road traffic accident while riding his motorcycle on 27th October 2021. Paul was well-known for his famous victory riding a Ducati 750 at Imola in 1972, inspiring Ducati to launch a limited edition Paul Smart 1000 LE and for racing a Triumph triple in the Transatlantic trophy races in 1971.
Paul learned the racing ropes at a Charles Mortimer race school at Brands Hatch in 1965. He was a highly versatile rider, successfully racing a number of motorcycles of various capacities from several manufactures including Bultaco, Greeves, Cotton, Aermacchi, Yamaha, Kawasaki, Suzuki and Norton. Paul raced Triumphs, winning the Hutchinson 100 Production race at Brands Hatch on a 750 Joe Francis Commando in 1969. He rode a works Trident to 5th in the 1970 Hutchinson 100, a race won by Phil Read.
Paul raced a Triumph triple in the Transatlantic TrophyAnglo-American Match Races in 1971 and was joint top points scorer on 76 with Ray Pickrell in the winning UK team.Other riders in the 1971 UK team were Percy Tait (Triumph), Tony Jefferies (Triumph) and John Cooper (BSA). In 1973 and 1974 he was captain of the winning UK team, riding a works Suzuki 750 two-stroke triple and in 1977 he rode a Yamaha.
In the TT in the Isle of Man, Paul rode a Norton Dominator to second place behind the Triumph of John Hartle in the Production race in 1967 and in 1969 on a Commando behind Malcolm Uphill (Triumph), with Darryl Pendlebury(Triumph) third. Paul placed third in the Junior TT in 1970 ahead of Uphill in fourth. Paul raced 250cc and 350cc Yamahas in Grands Prix in 1971. Paul was 5th in the final standings in the 350cc World Championship which was won by Agostini. He was outside the top ten in the 250cc championship which Phil Read won.
Paul rode a factory Trident prepared in the experimental department in the Bol d'Or at Montlhéry in 1970 winning the race with co-rider Tom Dickie by 9 laps over the second placed team. He rode the same machine, after an overhaul, in the 1971 Hutchinson 100 (Brands Hatch) and the Production race at Silverstone, placing second in both races. His versatility was evident in his win at Ontario Speedway, California, riding a Kawasaki H2R in the early 1972.
Paul married Maggie Sheene, Barry's sister, in 1971. He is survived by Maggie and their children Scott and Paula. Paul had recently won his battle with cancer. The TR3OC sends deepest condolences to Paul's family and friends.
Photo legend: Paul Smart pursued by Ray Pickrell, Race of the South, Brands hatch 1970
Photo Credit: Bill Riley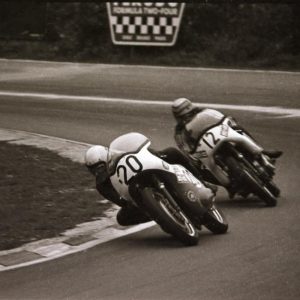 We are pleased to announce that Ton Everaers has taken over as the TR3OC Webmaster.
Contact Ton on webmaster@tr3oc.com
Rich