The TR3OC is pleased to announce Alex George will be our guest speaker at this years AGM. Alex won the production TT on Slippery Sam when partnered with Dave Croxford over 10 laps. He is also credited with the fastest TT lap on an air cooled triple.
The TR3OC AGM will be held on the 24th of November 2018 at The Best Western + Manor Hotel in Meriden. Rooms can be booked through the hotel on 01676 522735 @ £80 single inc B n B and £90 double inc. B n B please mention the club when booking as we have a special rate. Time table for the day….
12-00 AGM starts and finish approx 14-30 with lunch served at 13-30
17-30 guest speaker
19-00 Dinner is served
20-00 Entertainment
Menu to follow
Dave Bloor
TR3OC Chairman
chairman@tr3oc.com
Latest news on the "RIDE IN" on 11th August: the management have moved us to the PREMIER SUITE as it is closer to the Museum. Honorary Members now confirmed include Arthur Jakeman, Bill Fannon, Steve Brown and John Woodward.
Don't forget your membership card if you wish to benefit from the half price admission to the Museum
Dave Bloor
A date for your diary, TR3OC AGM will be on the 24th of November 2018 at The Best Western Hotel in Meriden. The days programme will be similar to last year with the AGM starting at NOON. Finer details to follow including menu and rooms.
The following committee posts will become vacant at the AGM: Editor, Treasurer, Events Secretary and Webmaster as Dave Smith, Martin Rawson and David Lord will not be standing for re-election. If you are interested in any of these positions, please contact a committee member.
We have just had some more engine drawings printed as there is still demand for them. They will be in stock again in the next week or two so keep keep a check on the merchandise section if you want one.
UPDATE – 6/5/18: Now back in stock
All issues from the very first Fishtail in 1979 up to TE 225 are now available for members to view online.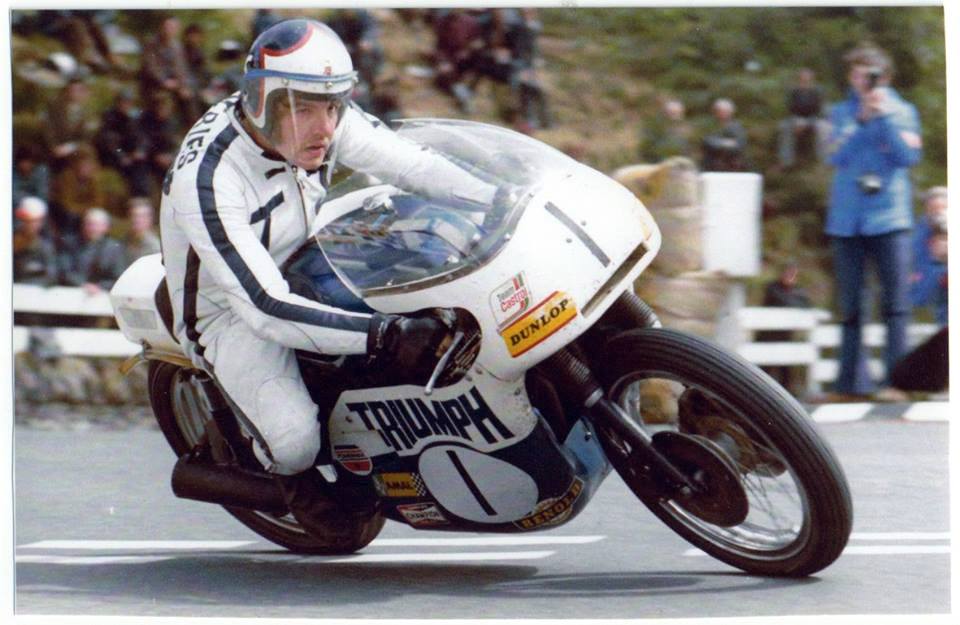 We are proud to announce that TT hero Tony Jefferies will be Guest of Honour for Beezumph 27 on July 13th & 14th. Tony will give a special talk covering his racing career on the Friday evening and present the event awards on the Saturday.
Tony Jefferies (born 24 April 1948) is a former Grand Prix motorcycle road racer. However it was his success aboard the iconic triples on the Isle of Man that etched a place in the hearts of triple enthusiasts.
In 1969 Tony started a stunning TT career, achieving six podiums in five years, including three wins, two second places and a third place finish. While Tony successfully rode a range of machines both English and Japanese his place in the affection of the Trident and Rocket 3 Owners Club was sealed when in 1971 he won the Formula 750 TT and finished second in the Production 750 TT against the might of home and oriental factory teams. In 1972 he occupied the second step on the winners rostrum in the F750 TT. Remarkably a year later Tony Jefferies pulled of a win in the 750 Production TT and a third place in the F750 TT, all riding the Trident three cylinder marvels.
Outside the racing arena Tony, Managing Director of Allan Jefferies Motorcycles, added the BMW franchise in 1971 and in 1973 his race career ended following a serious crash. In 1995 Tony opened a solus BMW showroom in Shipley and in 2010 opened a new state of the art 16,000 sq ft BMW showroom, Tony's daughter Louise has taken over the day-to-day running of the business. Today, Allan Jefferies is BMW's longest serving dealer (46 years) and its biggest UK dealer.