Dick now has all the bikes he needs for the show, except for an early Aqua Marine T150T.
If you can help, please call Dick Herzberg on 07860 203331
This is the TR3OC committee as elected by the members present at the AGM held on Saturday 11th November: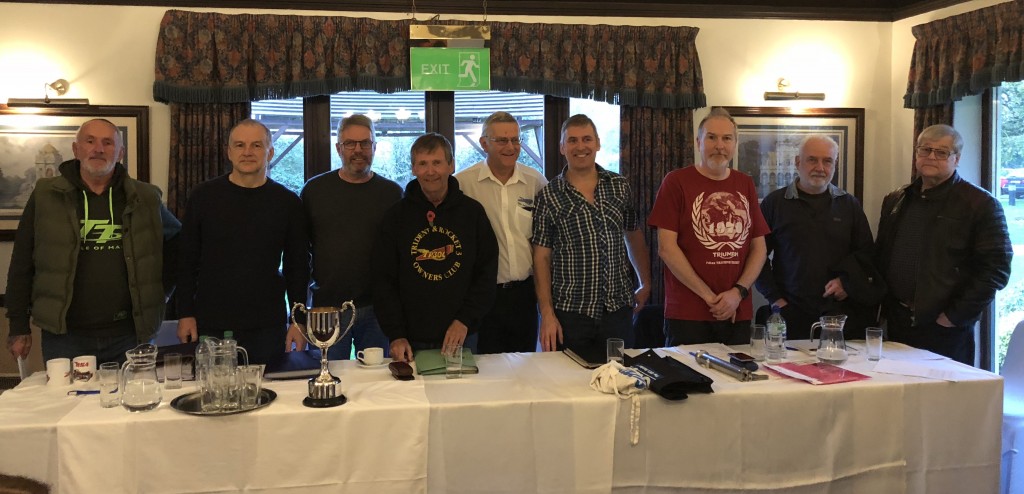 From left to right, Clive Blake Spares Sec, David Lord Treasurer & Website, Dougy Beardsall Membership, Dave Bloor Chairman, Graham Redrup Secretary and Machine Registrar, Martin Rawson Events, Rich Davies retiring PRO, Dave Smith Editor and Ray Maddox the newly elected PRO.
The members present actively contributed to a number of important discussion points during the AGM but if you were unable to attend and want to comment on the club activities or direction then please do get in touch, we do need your input!
We're pleased to announce that Roy Maddox was elected as the new PRO at last weekends AGM.  Roy is a new club member and currently working on a book on triples.  He replaces Rich Davies who has served on the committee for five years as Membership Secretary and then PRO.  Rich has been outstanding with his energy, creativity and passion for the club and the committee are sincerely grateful for his contribution.  Roy is contactable via the usual PRO email address.
Dick Herzberg is doing a splendid job in arranging for an impressive display of triples for this show.  So far he has the P1, a 1969 Rocket 3, a 1969 T150T in Aqua Marine, a Hurricane, a Mk2 Trident and hopefully a Mk2 Rocket 3.
He still would like a very nice and standard T150V and a T160.
If you can help, please call Dick on 07860 203331
Please contact me ASAP with your choices !!
E-mail pro@tr3oc.com or tel 07815 190042
Rich
Stafford Classic Bike Show, Saturday 14th and Sunday 15th October. The TR3OC have a stand there where we will have a selection of triples on display and we will be selling a number of items of merchandise at a reduced cost, come and see what we have.
The Chairman of the London Motorcycle Museum, James Crosby, has just set off on his epic 2500 miles ride on his 1964 Triumph Tiger Cub to raise money for the museums charitable trust.
The TR3OC have made a donation to help them to their target of £2500, a pound per mile.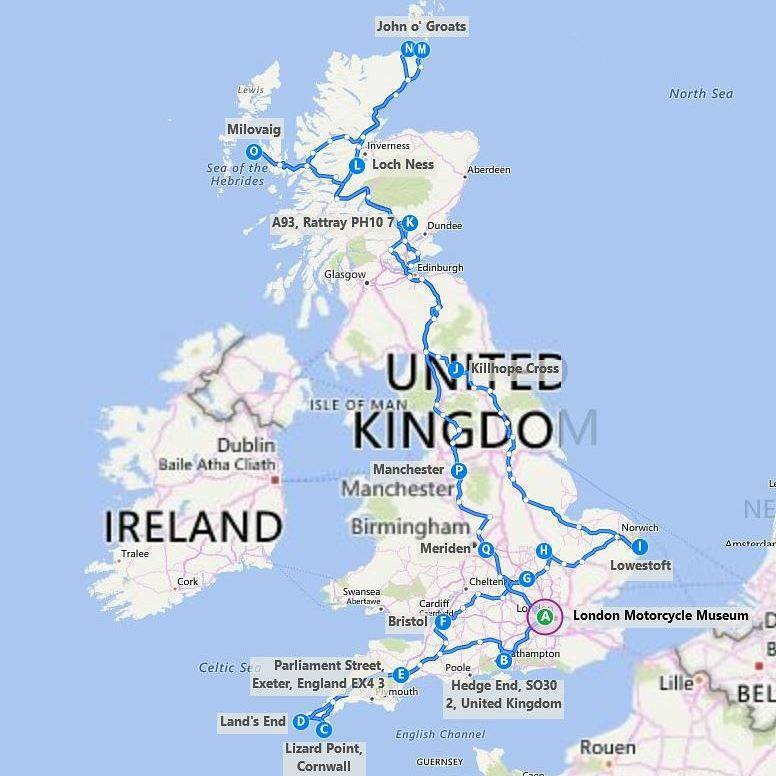 If anyone would like to donate visit the Just Giving page:
https://www.justgiving.com/fundraising/one-man-and-his-cub
Please share this post to get him a bit more publicity, they are good supporters of the TR3OC and look after the club's P1 and sectioned engine.  You can follow his progress on the LMM Facebook page:
LP Williams are aware that we have had our web site compromised by a third party. Please be assured that your card details are handled through a separate payment gateway (Sagepay) and have not been compromised.
Whist these issues are resolved we would ask you to only order by telephone (details below) or email sales@triumph-spares.co.uk. Please note that this is the only genuine email address for our company.
Very importantly, should you recieve a request to give your personal details or register to receive discounts etc via any link that you do not respond  – this is a phishing scam.
We are working with our IT department to resolve these issues and ask you to bear with us in the interim. We thank you for your continued support and valued custom.
Unit 3 South Barn
Low West End
Claughton
Lancaster
LA2 9JX
Tel 0044 1524 770956
Fax 0044 1524 771875
Triple Echo from TE180 through to TE225 is now available online in the archive (with the exception of TE193 and TE 195 which will be published at a later time).  These issues, representing the past eight years of excellent work by our Editor, Dave Smith, were available electronically.  This made them relatively simple to publish online.  The next phase of our activity will be to scan and electronically publish all the issues prior to TE180.  To view the archive, click here.