Mitch Klempf has been in touch as follows:
I have a few more parts for the bikes that I would like you to put the word out for me. A couple of back in stock items.
60-3558A X75 breather pipe assembly. Here is a link from our website. http://www.klempfsbritishparts.com/hose-breather-assy-73-x75-0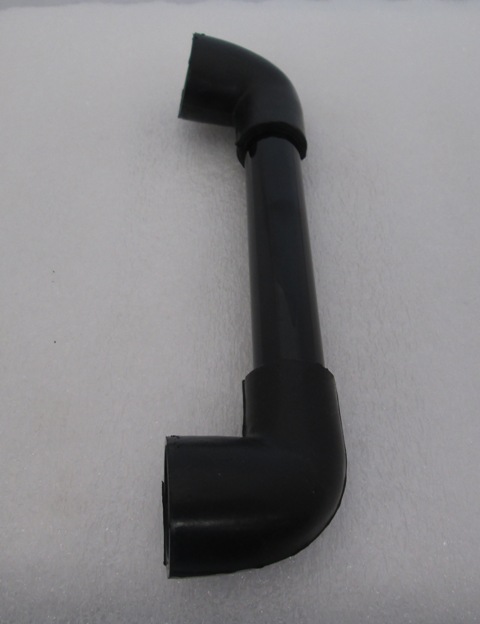 97-4463 bottom fork yoke and stem for T150V disc brake front end.
http://www.klempfsbritishparts.com/YOKE–BOTTOM–T150V–DISC-BR-0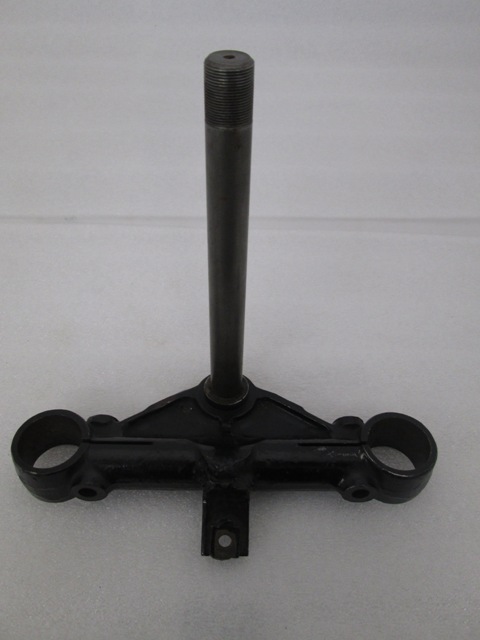 These are NOS.
All issues of Triple Echo and even Fishtail, going back to issue 1 from 1979 have now been scanned into PDF files. The long hard slog to convert them into files to publish on the website continues and we already have all issues of TE from 2002 to 2016 available to read on-line. The conversion and publishing process seems to take longer than anticipated as I keep seeing fascinating articles that I just can't help but stop to read. Enjoy!
The 2018 TR3OC Beezumph Rally will be celebrating the 50th Anniversary of the iconic triple launch in 1968.
It is anticipated that the format will be similar to 2017 as TR3OC returns to the Anglesey Circuit in North Wales for our two-day rally on 13th/14th July 2018. With track sessions, autojumble and camping
Following the track action, the visitors bike line up will gather in the paddock area. There will be a superb display of all the Triple genres with trophies given for the best in each class. A fantastic photo opportunity.
The evening is party time! The BBQ will again be covered by the Rally ticket along with entry to the event, camping, rally badge, program, and entry to the marquee for the bands. This will be great value for triple enthusiasts from the UK and around the globe.
Details in full including ticket prices and full activity programme will be announced in the club's magazine "Triple Echo", this Website and on the TR3OC Facebook page.
Roy Maddox, PRO
Dick now has all the bikes he needs for the show, except for an early Aqua Marine T150T.
If you can help, please call Dick Herzberg on 07860 203331
This is the TR3OC committee as elected by the members present at the AGM held on Saturday 11th November: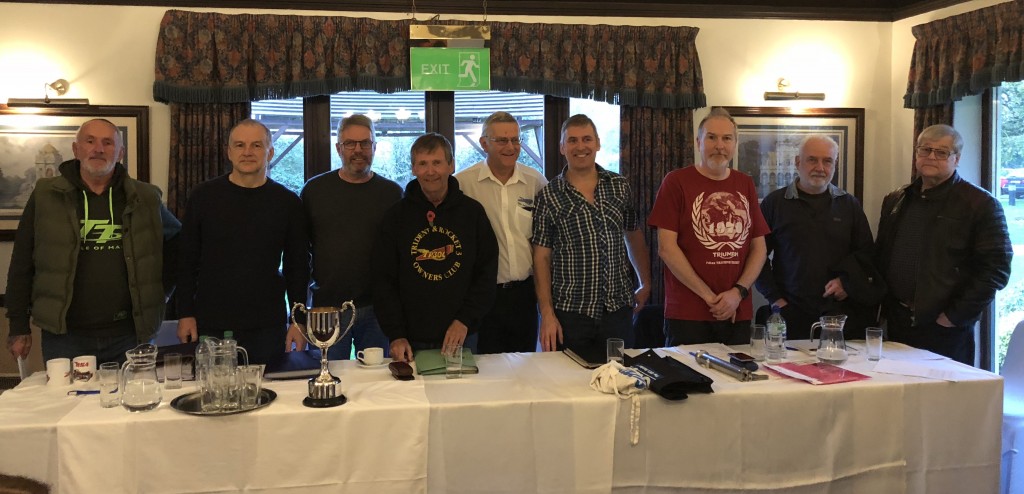 From left to right, Clive Blake Spares Sec, David Lord Treasurer & Website, Dougy Beardsall Membership, Dave Bloor Chairman, Graham Redrup Secretary and Machine Registrar, Martin Rawson Events, Rich Davies retiring PRO, Dave Smith Editor and Ray Maddox the newly elected PRO.
The members present actively contributed to a number of important discussion points during the AGM but if you were unable to attend and want to comment on the club activities or direction then please do get in touch, we do need your input!
We're pleased to announce that Roy Maddox was elected as the new PRO at last weekends AGM.  Roy is a new club member and currently working on a book on triples.  He replaces Rich Davies who has served on the committee for five years as Membership Secretary and then PRO.  Rich has been outstanding with his energy, creativity and passion for the club and the committee are sincerely grateful for his contribution.  Roy is contactable via the usual PRO email address.
Dick Herzberg is doing a splendid job in arranging for an impressive display of triples for this show.  So far he has the P1, a 1969 Rocket 3, a 1969 T150T in Aqua Marine, a Hurricane, a Mk2 Trident and hopefully a Mk2 Rocket 3.
He still would like a very nice and standard T150V and a T160.
If you can help, please call Dick on 07860 203331
Please contact me ASAP with your choices !!
E-mail pro@tr3oc.com or tel 07815 190042
Rich
Stafford Classic Bike Show, Saturday 14th and Sunday 15th October. The TR3OC have a stand there where we will have a selection of triples on display and we will be selling a number of items of merchandise at a reduced cost, come and see what we have.
The Chairman of the London Motorcycle Museum, James Crosby, has just set off on his epic 2500 miles ride on his 1964 Triumph Tiger Cub to raise money for the museums charitable trust.
The TR3OC have made a donation to help them to their target of £2500, a pound per mile.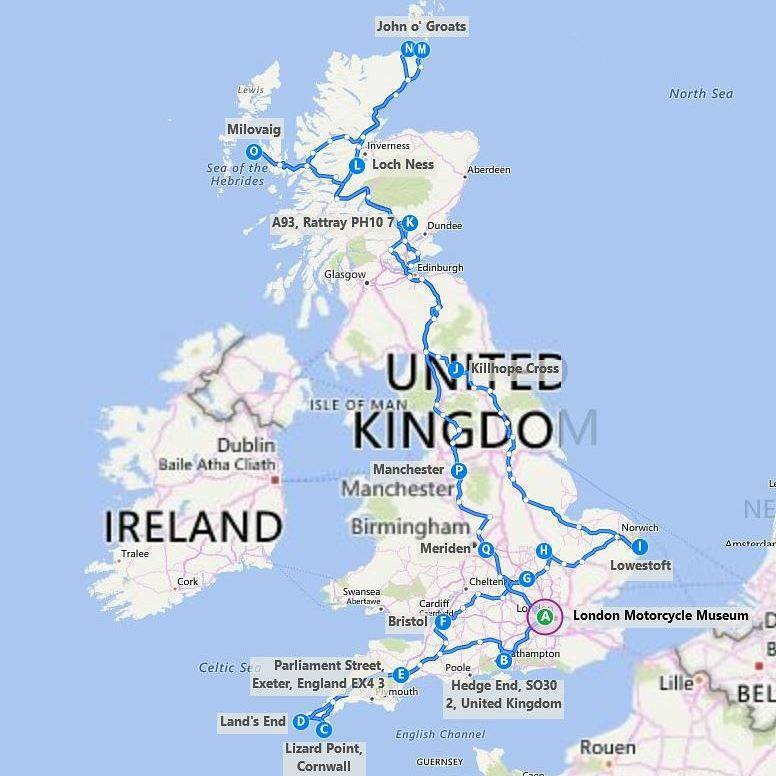 If anyone would like to donate visit the Just Giving page:
https://www.justgiving.com/fundraising/one-man-and-his-cub
Please share this post to get him a bit more publicity, they are good supporters of the TR3OC and look after the club's P1 and sectioned engine.  You can follow his progress on the LMM Facebook page: