Friday Food
Friday night lakes rally food
Pre order Friday Food via Messenger or cumbriarep@tr3oc.com to Keith Berry
Special dietary needs to contact Lesley at The Strands 01946726237
Cost would be around £16.00 to £18
Options available:
Tattie Pot is Lamb and Black pudding with potatoes and carrots which is an Old Cumbrian Dish with a bread roll
Curry with Rice nann breads
Chilli with Rice Totilas
Steak Pie with chips
Saturday Food
Pre-order Saturday Food to Jim Smith
TO ORDER. Make Your OWN Individual Selections using the Alphabetical Index Letters.
Then Contact Jim Smith on 0191 263 3600 , OR e- mail, jimtr3oc@gmail.com
Please Note : Anyone with Special Dietary Requirements, Allergies or Intolerences are ALSO requested to contact The Venue Directly . YOU MUST DO THIS AS A CONDITION OF ENTRY
Location The Sawmills Restaurant, Nether Wasdale. Tel 01946 726716 to Pre -Book only.
Starter & Main – £21.00
All 3 Courses – £26.00
MENU.
STARTERS.
A. Prawn Cocktail
B. Soup of the Day.
MAINS.
C. Roast Hereford Beef Dinner with Roast Potatoes, Yorkshire Puddings' Vegetables & Gravy.
D. Nut Roast, Roast Potatoes', Vegetables & Gravy.
DESERTS.
E. Sticky Toffee Pudding, Icecream or Custard.
F. Icecream (2-Scoops)
Thank You. Jim Smith – Organiser
'Unclaimed Beezumph raffle tickets, please contact Martin Rawso at events@tr3oc.com or 07806 807776 to claim prize'
Martin Rawson (events sec)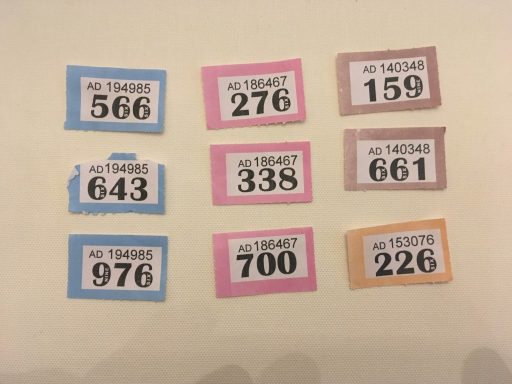 Here are a couple of shots of our T180 courtesy of Dave Bloor, taken today at Beezumph 29.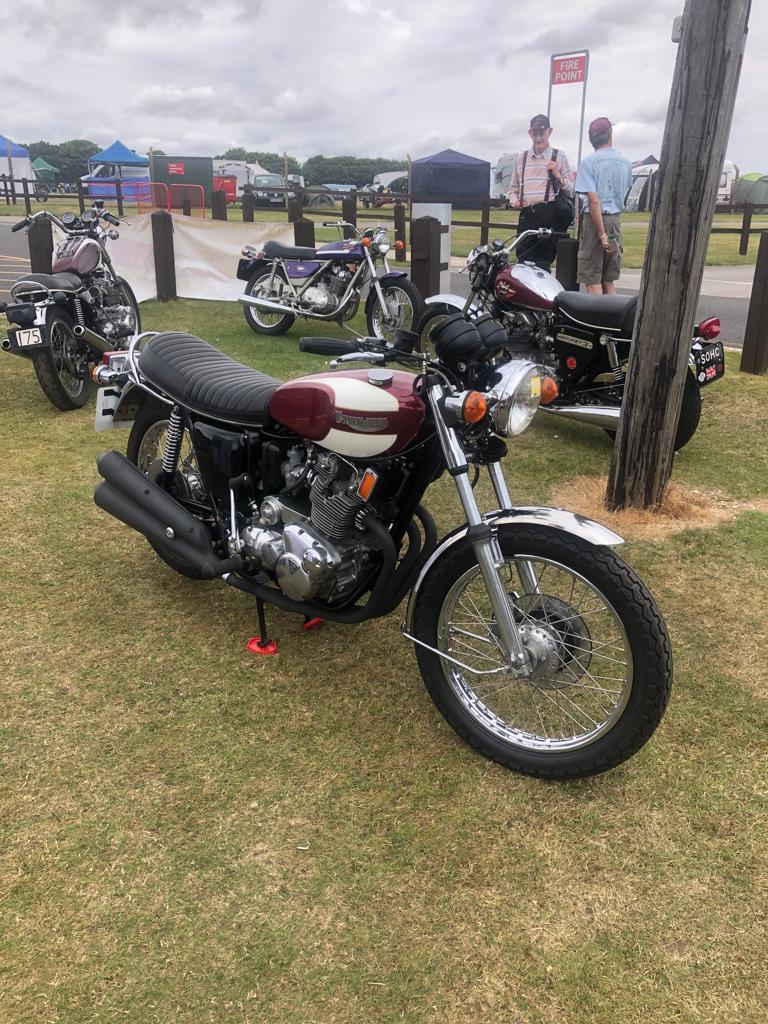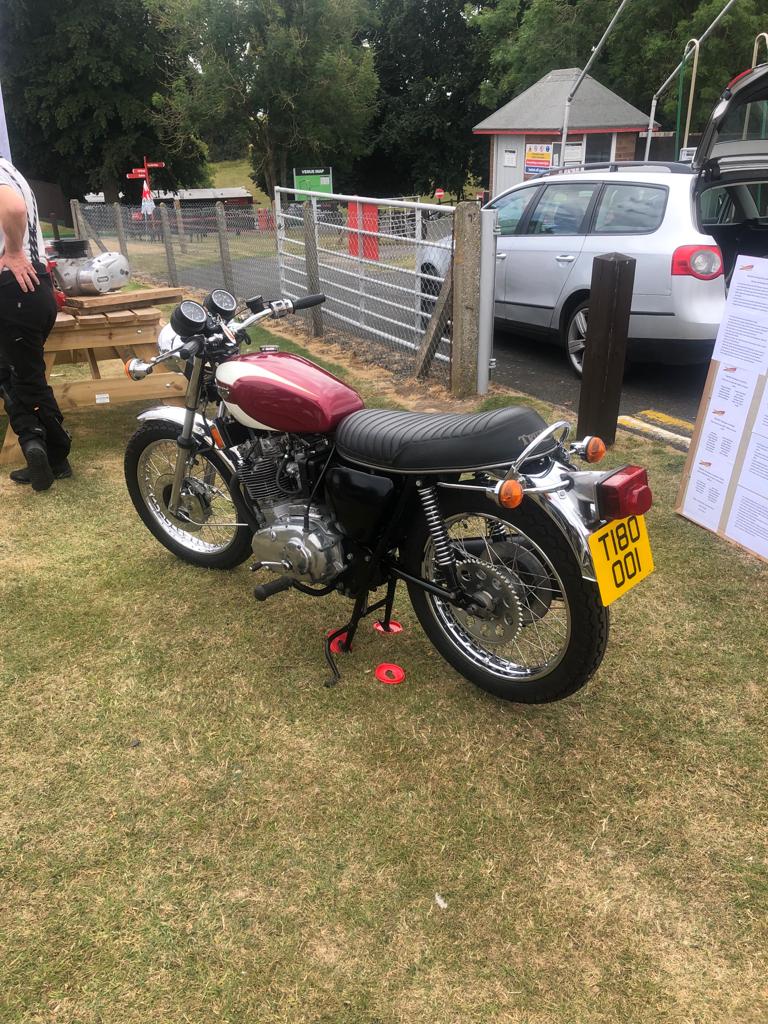 A big thank you to Adam Webster and Shane Wagstaff for the drone footage and video:
and thanks to Chris Rooke for his view of our rally:
Enjoy!
Rich
Beezumph 29 Cadwell Park.
Registration is now closed for online orders.
Rally Tickets are available on the gate.
If anyone is looking to purchase a track ticket, please see Graham Redrup on Thursday at the event, there is still a limited number of track spaces available. Hopefully see you there – Rich
Here are a few words from Jerry our PRO:
Here's an update on the T180 re-creation. Dougy Beardsall, Graham Holloway and I met up yesterday (5th July) to review progress on the bike. The image shows how it was. There is still quite a bit to do. The progress as in the photo has been achieved with lots of work by Richard Darby, Dougy, Graham, and donations of parts and services by many club members. Thanks to everyone!
I want to give Dougy a huge shout out for the work he is doing on creating an exhaust system for it. The effort he is putting in is huge. He is essentially having to create a clever way of connecting the centre down pipe because of the small gap between the cylinder head exhaust stub (please see previous posting for why this is necessary) and the frame tube. We will also be fitting a prototype silencer to it.
Once that is done we need to finish off the motor (fit cylinder head and rockers, check valve timing, fit oil pipes, fit ignition system, get a battery, finish the carbs, clutch mechanism, ally polishing). There is also some chassis work to be finished off, for example the side panel paintwork. The plan is to start the T180 before Beezumph if it can be achieved. A massive effort by all concerned is needed to make that happen.
The aim is still to have the bike on display at Beezumph along with a number of other prototypes. Norman Hyde, our guest speaker, will be giving a talk on prototypes at the rally.
Come along to Beezumph to see the first and possibly last triple prototypes made by Triumph. Tickets are available though the Club website.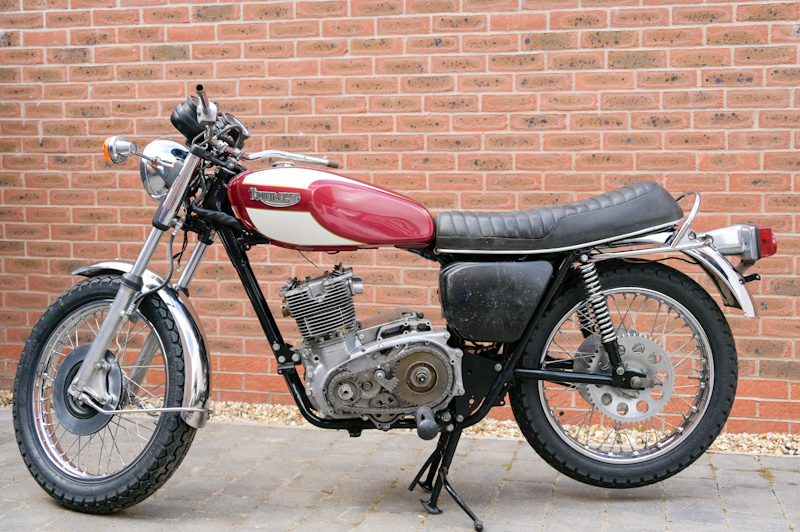 There are a few of these left to order, mens medium and small, ladies XL.