Bit of a sound board post, thinking of planning a hotel based rally in east Cumbria,in march or April,so just wanting a rough gestimate to who will be daft enough to drag their pride and joy out in march or April,rooms will possibly be £80 with breakfast so £160 for the weekend
Please email me via CumbriaRep@tr3oc.com if you are interested
Cheers Keith
Please note there have been numerous updates regarding the Lakes Rally event.
Take a minute to check the event description again to avoid disapointment.
Thank you.
UPDATE:
Lake,s rally update 3/4&5 September 2021 nether wasdale
Just for your information on the friday night the campsite are providing chilli and rice with garlic bread, there is a veggi version as well. This will be served at the campsite shop,around tea time i would say.
On the Saturday we will be going for the traditional ride out,which will probably be a 10-30 start time from the camp shop,there is a refreshment stop planned in the route which we will be served either meat and potato pie and peas,or cheese and onion pie,peas. tea and coffee as well price to be announced later for both. As you may have all ready gathered we are eating at the Scree,s hotel on the Saturday evening,the menue is posted on this site and the Tr3oc website,PLEASE make your selection and let me know either via messenger or CumbriaRep@tr3oc.com Due to the numbers there will be 2 sittings for the evening meal starting from 5 pm. Finally will all who are planning to come on the ride out please let me know what sort on pie you would like,as we need to order these up before the day,sadly if you dont order you will go hungry.
The date is 3rd to 5th September
The rally format will be as previous years, a ride out being planned followed by a meal on the Saturday evening.
Arrangement have been made for the Saturday evening meal to be held in two sittings of 25 in the Scree's pub. Please would all members select from the menu choices below, and confirm them please by emailing Keith Berry here;
If you decide to make other arrangements for food it is important that you still register for the event by email, thank you.
The venue for our Saturday night meal has been changed!
Please contact me with your new choice,we are now dining in the sawmill 👍
Lakes menu Saturday night
Starters:
Prawn cocktail
Mushroom soup
Chicken liver pate
Main:
Herdwick lamb chops
Hereford beef
Pan fried trout
Veggi lasagna
Desert:
Sticky toffee pudding
Eton mess
Lemon tart
Cheese board
£20 two courses
£25 three courses
This year's AGM will take place at the Triumph Factory, Dodwells Road, Hinckley, LEC LE10 3BZ on the 24th October 2021.
Further details to follow.
Thank you to Julie Turner/Trev at the pub who organised this and Adam Webster and Shane Wagstaff who filmed and edited the footage for this incredible video of us assembling and setting off on our ride out. Enjoy!
Rich
Hi all,
Following an extremely successful event at the Hollybush Inn, we have secured the venue for next year.
These are 15th to 17th July 2022
Hopefully we will be over the COVID situation by then.
Any questions e-mail:
Julie – julieturner012@gmail.com
Richard – website@tr3oc.com
Thanks
Rich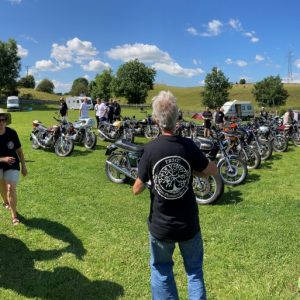 Well done to Dave Ellis who has the ticket.
If you have ticket number White No 36 (serial AS1H FN6D) please e-mail website@tr3oc.com. We have your prize.
If not claimed, we will take it next year.
Nic Davies
The rally is now fully subscribed but we are keeping a list of reserve names in case anyone drops out. If you want to be added, please contact Julie Turner on julieturner012@gmail.com
Thanks
Rich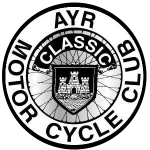 Ayr Classic Motorcycle Club is proud to organise the Scottish Classic Motorcycle Show. This iconic show commenced in June 1989 at Dam Park Hall in Ayr. Over the next 31 years it has developed and moved home as it grew. We utilised Centrum Ice Rink, Prestwick, until it was demolished, then moved out of Ayr to Rowallan Equestrian Centre, Fenwick, before returning to Ayr in 2011 to the luxurious Princess Royal Function Suite at Ayr Racecourse.
Over the years the show has grown to the point where we regularly have over 120 exhibits ranging from pre World War 1 flat tankers through to the Superbikes of the early 2000's. In addition there is an amazing array of trade stands, including those offering motorcycle autojumble. The show usually includes a stunt rider and a parade of selected bikes from the exhibits.
Unfortunately this year, to our disappointment, the show has had to be cancelled due to the Coranivrus pandemic. It is our intention if possible to return next year.