UK Historic Road Tax
Many of our bikes are now reaching their 40th anniversary and in the UK that mean they qualify for Historic (free!) Road Tax.  The DVLA rules however are not very easy to understand, so when you read this extract from their website, you'll need to concentrate!
Budget 2013 announced a measure to extend the scope of the VED exemption to classic vehicles by one additional year. From the 1 April 2014, vehicles manufactured in 1973 will be added to the exemption for this category. Budget 2014 announced the introduction of a rolling 40 year exemption of VED on classic vehicles. From the 1 April 2015, vehicles constructed 40 years ago will be added to the scope of the exemption.
The exemption cut-off date will be changed to 1 January 1974 to apply from 1 April 2014 as announced at Budget 2013, and to 1 January 1975 to apply from 1 April 2015 as announced at Budget 2014. The cut-off date will be rolled forward by one year on every 1 April in each subsequent Finance Bill.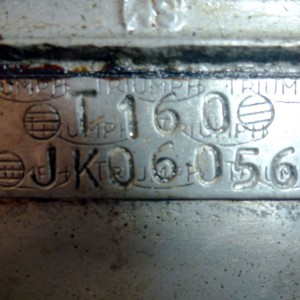 So let's try an example to help clarify this:
"I have a T160 that was registered here in the UK on 1.8.75"
The first thing is that you MUST get a dating certificate from the club with a copy of the original factory record showing the date of MANUFACTURE of the machine.  DVLA will not accept the date of registration to prove the age of your machine.
"My frame number is T160 EK 04XXX.  The TR3OC dating service has confirmed this was manufactured on 14th May 1975."
This machine won't be exempt until 1st April 2016 because it was still 39 years old after 1st April 2015.
When you do apply, make sure you take photos of the complete machine plus rubbings and photos of the frame and engine numbers and send them with your dating application.  Please note that DVLA is much tougher on this than they used to be; rubbings of parts of incomplete bikes will not be accepted for dating certificates anymore.