Help with using the Forum
1. Joining the TR3OC Forum
Any site visitor can see the Forum but to post a comment you'll need to be logged in as a member. Details of how to log in are shown on the home page. The first time that you 'log in' as a member, it's a good idea to check out your Member's Profile in order that you can check that the information we have is correct. Please do make sure that we have your current email address.
2. Forum Structure & Rules
We presently have three Forum Categories although this may grow in future. The Forum has a list of current topics which are normally displayed in the order in which they were started so the latest will be at the top. Clicking on a topic will show all current posts in that topic.
To protect the Club from legal challenge we must ask that members refrain from making defamatory remarks or trying to use the forum for advertising. A full set of Forum rules are include in our Terms and Conditions. The Site's Webmaster also moderates the Forum and reserves the right to edit or remove any post which breaks our terms and conditions.
3. Using an Avatar
To show who's making the comment it's a good idea to use a small "Avatar" or thumbnail picture of yourself or your Bike.  To add your Avatar, simply click on My Profile on the home page.  This will take you to your profile and at the bottom of the page you will find instructions for uploading an image to use as your Avatar.
4. Starting a new topic
Select the forum category where you'd like to start a new topic and then go down to the bottom of the page where you'll find the form to start a new topic.
5. Editing your post
The Editor is a fully featured area with enough editing tools for even the most creative member. You can change the text, add pictures add video's, tables and links to other websites and places on the internet. Allow your creativity it's head!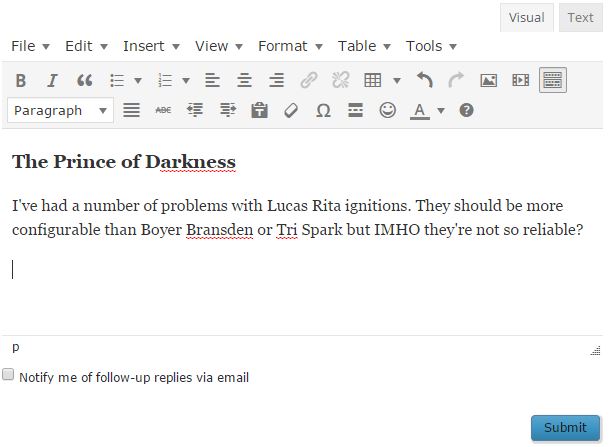 6. Attaching pictures to a forum post
It's very easy to add a picture to your post.  At the bottom of the text field you are prompted to choose a file to attach.  You can attach up to four files (by clicking "Add another file" for the second, third and fourth files) each up to 12Mb in size.  Once uploaded, the picture will appear as a thumbnail and will appear full size when clicked on.  Posts that include an attachment show a paper clip.  Always add pictures when you can; people are naturally attracted to posts with "paper clips".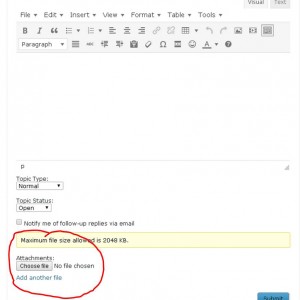 7.  Subscriptions
If you'd like to be notified of any responses to your post you make click on the "Notify me of follow-up replies via email" button when completing your message. Optionally you may also subscribe to be similarly notified by clicking on the "subscribe" link under the Forum or Topic heading to receive notifications for all posts made to a topic or in a forum.