The Beginning
Doug Hele and Bert Hopwood had discussed the concept of a three cylinder engine for about two years before the first sketches were drawn in 1963. The whole point of their thinking was to achieve a level of smooth running not possible with a large capacity twin, whilst retaining the high-speed handling that is compromised by adopting a four cylinder transverse engine. In 1963, the project was low priority and without backing from the Triumph Managing Director, Edward Turner. Despite this, the first 750cc three-cylinder prototype was built in the Meriden Experimental Department in 1964. It was code named P1.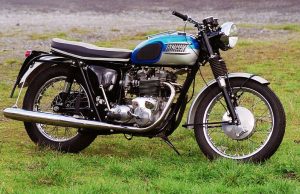 P1 was rebuilt by the TR3OC in 1997 and now resides in the Triumph Factory visitor centre, Hinckley. There is a must-read series of articles on this re-build in the Triple Tales Continued section.
Initial testing of P1 was very promising but there were many issues to overcome e.g. overheating, wet sumping, noisy primary drive (using pinions) etc. Further development to improve matters resulted in the building of P2 in 1966. The retirement of Edward Turner and other management changes, plus news from Japan that a four-cylinder 750cc bike was planned, gave the project higher importance and it was decided to continue through to production.
Ogle Design were appointed to style the new machine and presented their designs in 1967. They received very mixed reviews from design staff, management and the vitally important US distributors. But the radical new look won through and the BSA Rocket 3 and the Triumph Trident were launched to the world in September 1968. The era of the Superbike had begun!
Over 33,000 machines were produced until production ceased in 1976.
Model Summary
Click on any bike for more details
BSA Rocket Three

Year 1968-72

Production numbers 5,897

Triumph Trident T150

Year 1968-74

Production numbers 19,179
Triumph Trident T160

Year 1975-77

Production numbers 7,104

Triumph X75 Hurricane

Year 1973

Production numbers 1,048