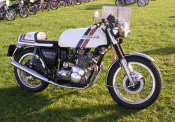 Slippery Sam Replica – When Les Williams started up his own business, L P Williams, in 1976 he employed his former Experimental Department colleagues Arthur Jakeman, Harry Woolridge and Jack Shemans. They created some iconic bikes that are much sought after by riders and collectors today. In total, 28 Slippery Sam Replicas were hand built to race-shop standard as road-going bikes, but because L P Williams sold after market parts as well, a number of enthusiasts created their own.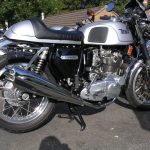 Legend – His next project was to create an updated T160, with features he considered that the bike would have had if it had still remained in production. When Les sold the business to Trevor Gleadall, Trevor continued to make the Legend and other variants know as the Renegade, Buccaneer and a one-off Tornado. Sixty of the stylish and practical Legends were produced, each with its own serial number inscribed on a plate attached to the handlebars. The club held a reunion of these marques in 2012 and 27 of the bikes congregated at the NMM for the event, along with Les himself and many other special guests. Club members can read all about it here, along with a footnote on machines built, from the club archivist.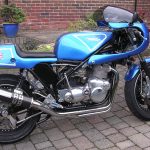 Hyde Harrier – Former Triumph Development Engineer Norman Hyde set up his own business in 1976 and used his experiences from working under Doug Hele in the Experimental Department to design and market improvement parts for triples. He became most well known for his big bore kits, alternative camshafts and heavy duty clutches. But in 1987 he marketed a complete motorcycle, the 1,000cc Hyde Harrier. This could be purchased as a complete bike or as a full or part rolling chassis. It was effectively the equivalent of a road-going Rob North Trident along the lines originally envisaged by Bert Hopwood, and an excellent bike it turned out to be!
RPS Trident – Richard Peckett of P&M designed his own racing chassis and achieved great success housing the powerful Honda and Kawasaki four cylinder engines. In 1988 he built a T150 Richard Peckett Special. This machine was recently re-commissioned and is now ridden by Chris Chapman in the CRMC series. There's more information for you here.
Two RPS tridents have also been built as road bikes.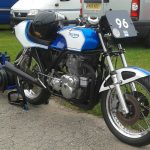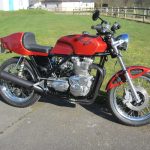 Other Specials
There seems to be no limits to the diversity of bikes that house triple engines. Here's a couple of examples.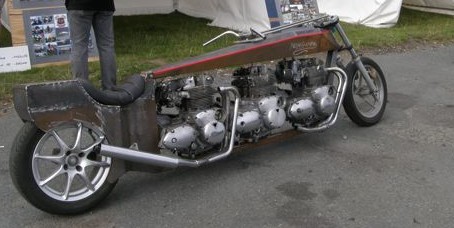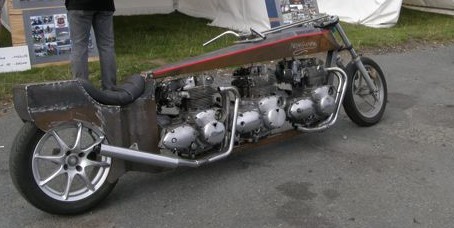 A visitor to Beezumph 20. I wonder how well this one handles?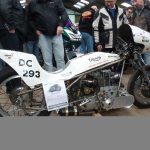 This one was displayed on the club stand at the Bristol Show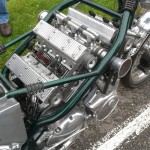 And finally, a BSA Rocket V6 dohc project from the amazing George Pooley, a regular exhibitor at Beezumph and supporter of the club