Events
If you have an event you would like to add to this calendar, then please email website@tr3oc.com
Aug
18
Fri
GTR 11 – German Triple Run
The 11th German Triple Run will take place in Weichselbaum by Weßling from 18th to 20th August. This is close to the exit Oberpfaffenhofen on the München to Lindau autobahn A96. As usual there will be a run out on the Saturday to an as yet undecided location. Camping is possible, hotel rooms will be booked on request. Catering will be of the usual quality and Bavarian beer is of course the best in the world.
Sep
8
Fri
14th French Trident & Rocket 3 International Rally
CLUB TRIDENT ROCKET 3 FRANCE
14th French International Trident & Rocket 3 Rally
8th , 9th and 10th September 2017
The Club Trident-Rocket 3 France is organising its 14h International Rally in the Angevine Region .

Subscriptions are limited to 100 people and the rally is therefore reserved exclusively for owners of Classic three cylinder TRIUMPH and BSA motorcycles who will be arriving on their bikes.

You will receive an exact location map upon receipt of your subscription form.

The cost for registration for the weekend is 90,00 €.

The Rally is limited to 100 people.

Subscription date limit: 16th July 2017.

Programme of events:

Friday 8th September:
Welcome  of participants throughout the afternoon
Allocation of accommodation
Communal dinner in the restaurant
Musical entertainment
Saturday 9th September:
Breakfast
9.30 am : Round trip
Picnic on the banks of the river LOIRE
Return to the Rally site
Apéritif
Communal dinner in the Restaurant
Musical entertainment
Sunday 10th September :
"Brunch" all morning to allow everyone to depart when they are ready.
Departure of participants throughout the day.
Accommodation :
Some bedrooms with 2 to 4 beds are available on the site costing 30 € for two nights for each single bed (1 person).
Free camping is available on the rally site.
A list of hotels, gîtes and B&B's in the locality is available on request.
Download the application form here.
Georges BOISNIERE
Tel: 00 33 6 30 35 36 74
Lakeland Camping Weekend

@ Church Stile Farm Campsite
The TR3OC Lakeland Camping Weekend 2017.
Location: Church Stile Holiday Park, Nether Wasdale, Cumbria, CA20 1ET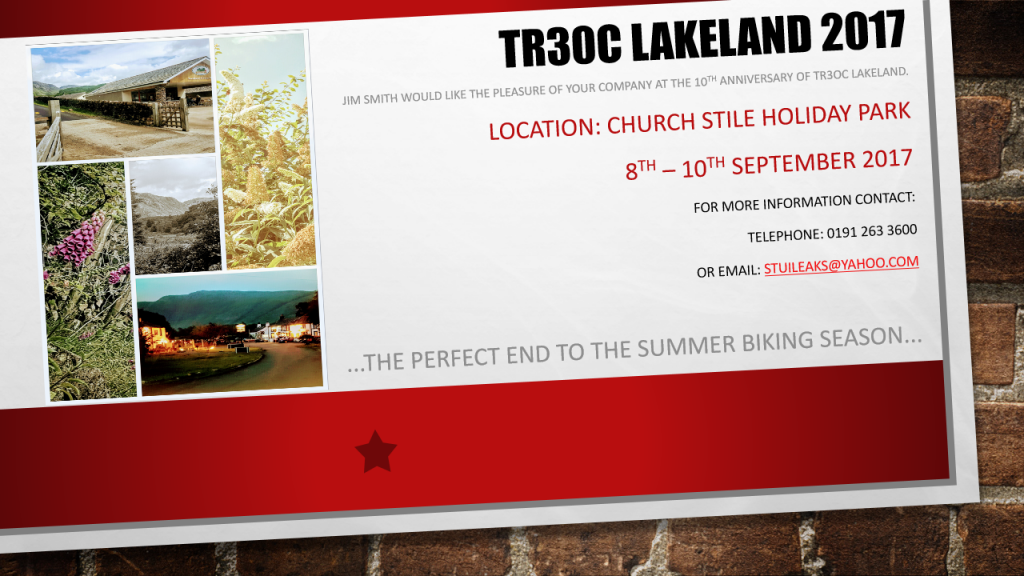 Friday night Barbecue, Saturday & Sunday Breakfasts supplied only by prior arrangement.
Mention your catering requirements when booking with the campsite. Vegetarian options are available.
Saturday: Planned ride-out to place of interest, returning for evening meal at the Low Wood Hall Hotel.
Booking your stay could not be easier:
Book Online at www.churchstile.com (filling in TR3OC in the special requirements box)
Or
Phone the Campsite on (01946) 726 252. Mention TR3OC.
Campsite queries by Email: info@churchstile.com
Contact the organisers to advise of your attendance by:
Email: Stuileaks@yahoo.com
Or
Phone: (0191) 263 3600
YOU MUST DO THIS.
The event is limited to a strictly enforced maximum of 50 patrons. Also, we need to contact you with updates and arrange booking of your Saturday evening meal.
Please be advised, the Holiday Park operates a QUIET SITE policy between 11pm & 7am. It is anticipated that all attendees will be considerate in this respect.
Jim D. Smith – Organiser
Stui Paul Smith – Coordinator
Nov
11
Sat
2017 AGM

@ Marston Farm Hotel
Nov 11 @ 1:00 pm – 4:00 pm
This year's AGM event will be held on Saturday 11th November 2017 at the Marston Farm Hotel, starting at 1pm prompt with a break in the middle for refreshments.
For those that want to stay longer, after the AGM there will be time for a social drink in the bar, a trip down to the local pub which is a short walk away or a chill out before the evenings proceedings. We will then re-convene around 7pm for a pre-booked three course meal with a choice from the set menu, which is priced at £20.00 per head, followed by some entertainment which will soon be announced. Rooms will be available to book directly with the hotel priced at £65.00 Single Bed & Breakfast or £80.00 Double/Twin Bed & Breakfast. These are purely on a first come first served basis, please quote "TR3OC" with your booking to ensure this price.
The date coincides with the Classic Motorcycle show at the NEC, so anyone who wishes to make a weekend of it can visit this event on the Sunday. Please come along and support, this is your club, have your say or just socialise!
Meals pre-booked only contact: Richard Davies – pro@tr3oc.com 07815 190042 with menu choice, last orders for food 20th October '17, pay at event.
Rooms pre booked only contact: Marston Farm Hotel,  Bodymoor Heath Ln, Sutton Coldfield B76 9JD
Phone: 01827 872133 quote "TR3OC"