Classified Ads
Looking for a Trident? Trying to find a Rocket 3? Looking for some spares? Browse our classifieds. Have a Bike to advertise? Spares going spare? Post a Classified Ad. Adverts can only be placed by club members but may be viewed by any website visitor. Just as you would with other forms of internet trading, please take sensible precautions to ensure that inquiries you receive are genuine. Looking for one of those Norman Hyde clutch adjustment covers with the "3" cast into it???
10/12/2017
Total views: 29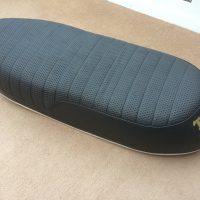 T 160 seat. recent refurb with new cover and gel pad. very little use since. Collection or postage at cost.
02/12/2017
Total views: 83
Price: £ 150.00