Membership is open to enthusiasts all around the world; you don't even need to own a Trident or Rocket 3. We offer annual and five-year term rates, plus associate membership.
New Members
Anyone wishing to join can sign up on-line here. You'll be in good company as we have a wide distribution of members around the world. This snapshot was taken in September 2015.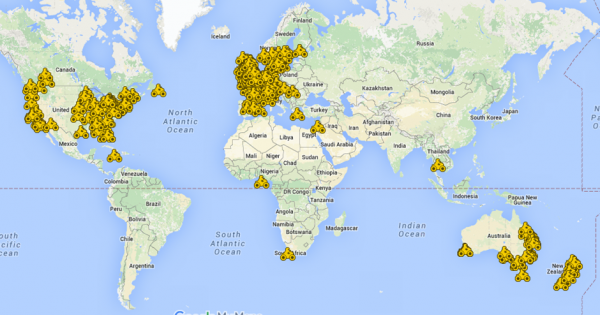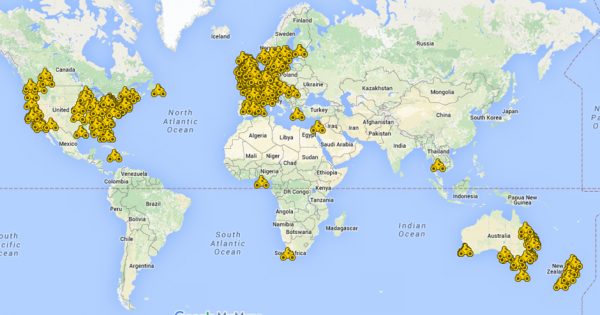 Membership Renewal
As an existing member you can renew your subscription via this web site when your current membership is due to lapse.
Membership Benefits
Being a member of TR3OC makes you part of a community of like-minded enthusiasts with whom you can share knowledge and experience and gain so much more pleasure from restoring, maintaining and riding our special machines. What's more, you will have opportunities to meet with ex-factory personnel and racers of the time at club events, who are more than willing to share their priceless knowledge with you. Every member also receives:
Every full member receives a copy of the club's magazine Triple Echo, which is published bi-monthly. Triple Echo typically comprises 64 colour pages in A5 form with news, events, member's stories, technical articles, club updates and free member advertising.
Triple Echo also includes details of local area representatives who organise regular local meetings and events, so you can meet with your fellow enthusiasts.
Club events are open to both members and non-members, but for many tickets, club members receive preferential prices e.g. track ride tickets at our annual Beezumph rally.
Footman James Insurance Specialists offer a generous discount to UK TR3OC Members. Also, for each new policy, Footman James will make a small contribution to the Club funds. Remember to quote 'TR3OC' as your reference. The Footman James TR3OC discount extends to more than just classic bike cover:
Up to 15% on Classic Bike insurance
10% on Classic Car insurance
5% on Modern Bike insurance
5% on Modern Car insurance
5% on Home & Contents insurance