It's 2015 and the NVTBSAEROC (the bastard child of the TR3OC) were looking for their next silly adventure. Having ridden NVT Easy Riders from John O'Groats to Lands End, Blackpool to Paris, around the Isle of Man, to Ostend for a weekend of fun and even stuck a pulse jet on one, this time they decided to go Endurance Racing at the RAF Wittering Mopedathon. It all looked simple enough ….. Get yourself a moped, form a team and then turn up in fancy dress and do as many laps as you can in 6 hours.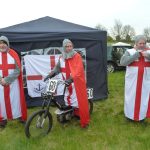 A team of five was created, John Young, his eldest son John Jnr, Martyn Worlock, Richard Davies and Peter Nicholson.  Peter bravely put his NVT ER2 forward as the Endurance Racer.
Racing number boards were affixed and "60" was adopted as the team number – the same as the T160 Production Race Bike Son of Sam used at the 1976 TT. This is the TR3OC after all !!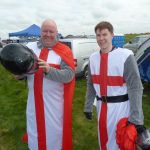 Despite some harrowing moments, the little ER2, producing all of 1.6bhp at 4500rpm (when it was new, 38 years ago!) made it through to the end after 6 gruelling hours.
Finishing in a creditable 35th place out of 48 entries, the highlight of the day was receiving the Max Wilson Trophy for the team that best entered into the spirit of the event.
Watch out for a full report with more pictures in the next issue of Triple Echo.
The "Le Mans" style start….
Le Mans style start ……..

Posted by John Young on Sunday, 3 May 2015
Richard Davies at speed….
Richard Davies at speed ………

Posted by John Young on Sunday, 3 May 2015