Tuesday Update from John Young:
Today started with a 56km durst track journey to the start line.
Once we were there out official start time was 10.09 & so we had about a 30 minute wait. We got talking to a team of Spitfire pilots (yes that sort of spitfire !!) and afterwards to another competitor who warned us that there was a section that we would get stuck in.
Although the organisers assured us that they were quite prepared to recover us (again), we have already learnt that this is a dangerous event and tying up the organisation "rescuing " us from a situation that we knew we would be getting into would potentially mean a real emergency would be compromised. We decided therefore to cross the start line , "have a play" and then take the long route around to the finish control.
So off we set. After about 6 miles into the desert the bike went onto 2 cylinders and so plan a had to be shelved and we limped back to the start. It turns out that all we had done was shake a ht lead out of a coil. You need to understand that 6 miles desert riding subjects the bike to something like 600 miles road riding – it really is that bad ……
so then we had the long 300 km haul to Mesourga.
On the way we headed off for 20 minutes or so into the desert again and really caned the bike. It held together well and performed brilliantly which has given me a lot if confidence.
However we came back with a flat rear tyre …..
We still had 50kms to cover yo the finish control and so we were about to test my theory as to whether the tyre would run flat. For the most part it did although we have " totalled " the tyre (I'll send pictures later)
That will be Chris and Eugene's first job. We're going to try a moose this time. We'll get one from another team.
Oh, we missed the cut off time for our check in by 15 minutes or so – about the time we spent arsing about in the desert. Heck, who cares. It was fun ….
I suppose some of you may be thinking that we're not taking this seriously. On the contrary we are. We said from the start that our mantra would be if in doubt, don't. This is a competition where you could die and we don't want that to happen. its tough enough riding a classic machine at the best of times, let alone in Morocco and then in the desert
We are learning more and more each day about what it takes to compete in this event and also compete on a triple. Tomorrow we will see how to tackle sand and the dunes. This adventure has now turned into a training course as we will be coming back again and be the time we will be more prepared, for now, each day teaches us more.
Oh, one last thing for the next three nights we are sleeping on mud huts !!!
So, I hope that you are enjoying the reports and pictures and don't forget to check out the daily videos posted on you tube.
and as of tonight we are still in front of every H*nda CB750 entrant …… lol !!
And not to forget Chris Rooke and Eugene Hudson who are driving all day, refuelling and working their butts off to keep the bike on the road, no mean feat in this heat and environment.
Wednesday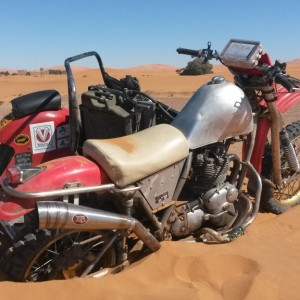 Thursday update :
The team sat down last night to plan our strategy for the next 3 days. We are going to spend today trying to get the rear wheel correct. We've run out of suitable tubes so we have to make the mousse work.
Tomorrow we will get the outfit trailered back to Zagora ( to protect the mousse as they don't enjoy continuous lengthy road use).
Hopefully then we will be able to tackle Saturdays stage in full
Friday
Today we head back to Zagora and so you will see our Spot moving again.
We have now given up on tubes for the rear wheel and now have a mousse fitted.. Another team helped us and fitted it for us. Here's a couple of pictures of the "process"