18th International French Triple Rally
September 10th, 11th & 12th 2021
Hi Fellow Triplers,
I'm hoping that the health situation in Europe will finally return to normal during the year so that the 18th edition of the event will take place on the second weekend of September.
The maximum number of registrations is still limited to 90 people.
65 of you have postponed their 2020 registration to 2021, so we only have 25 places left.
 Beyond these 25 registrations, any further applications will be put on a waiting list in case a person already registered withdraws.
The number of accommodation places available on site is now close to zero and the first to book will be the first to be served.
For those who don't wish to camp on the Rally site, a list of local accommodation can be provided on request.
If you are interested in participating in this Rally, please contact me at the following email address:
club-tridentrocket3france@orange.fr
Keep in mind that this Classic Triple Rally is only open for Triumph Trident & BSA Rocket 3 enthusiasts coming with this kind of bike,…. so, no Hinkleys or other exotic bikes, please.
Best Regards,
Georges BOISNIERE
Club Trident Rocket 3 France
1 Chemin des Clous
49220 Montreuil sur Maine
France
We will be running a Rally in Derbyshire near Matlock Bath on the 16th to 18th July which will be in the memory of well known triples enthusiast and club member Paul Fields.
Full details and booking info will be available soon on the events section
Save the date!!
Rich

Beezumph Statement 30 March 2021
Following today's committee meeting it is, with considerable regret and sadness, that I must inform you that Beezumph 2021 scheduled for 20-21 August will not be taking place.
Martin Rawson our events secretary has been desperately trying to come up with some way of keeping the event alive. Various ideas have been discussed at great length, a single day Beezumph, a track day, social distancing measures, if you can think of it we have looked into it.
Various conversations have been had with MSV to try and find a way to hold Beezumph but, truth told, the uncertainty which still surrounds the lifting of the UK's lockdown measures, and what may happen if there is a resurgence of the disease leave both TR3OC and MSV in an impossible position.
As you can see by the lateness of this notice we have tried to keep the event alive until the latest possible moment, the last discussion on the subject being today 30th March 2021 when we held a special committee meeting to try and come up with a workable solution. Having further discussed all our options at length this morning, we feel that the potential for harm to members and guests who attend the event on top of the potential financial loss leave us with no alternative other than to post-pone once again.
We also consider that by trying to save the event we run the additional risk of damaging the event itself and the experience for everyone.
So once again our sincere apologies to everyone, this is not what we anticipated a year ago when we had to cancel, however whilst some sort of end to this may be in sight it has not come quickly enough for us to proceed.
Stay safe everyone
Peter
To enable us to enjoy a less restrictive weekend away the dates for the North Wales rally have been changed.
Now taking place 23rd/24th/25th July.
Thank you George Sinclair for sorting this out, a great location and excellent craic!!
Rich

#FJShowUsYourShed – the Footman James competition
to find the best enthusiast's space in the UK
• Competition to celebrate motoring fans' amazing spaces
• A team of judges, led by Harry Metcalfe, will award the first 'Shed Head' trophy
• Enter at https://www.footmanjames.co.uk/show-us-your-shed-2021 and share on social media using #FJShowUsYourShed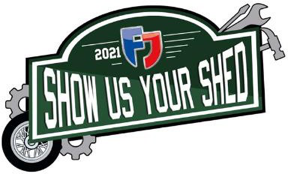 Specialist vehicle insurance provider, Footman James, is launching its Show Us Your Shed competition to celebrate the spaces that allow automotive enthusiasts to indulge in their passion.
Calling on motoring nuts, engineering fans, closet collectors, and garagistas: Footman James wants to see the 'sheds' that house classic and collectable passions: be they compact or palatial, grand or grungy, clinical or chaotic.
Providing an invaluable refuge for many over the last 12-months, the concept of the shed can be more than a traditional garage space (essential for classic car ownership) and can take the form of spare rooms, outbuildings or even aircraft hangars. Essential for relaxation as well as mindfulness, today's sheds come in all shapes and sizes.
Unveiled by Footman James ambassador and motoring authority Harry Metcalfe, the two- month social media competition will award one space the inaugural 'Shed Head' trophy. Harry Metcalfe said: "The appeal of the modern 'shed' as a place to escape and recharge is
universal – a place of craft, for learning new skills and creating new ideas. That's what Show
Us Your Shed is all about."
Open to everyone, not just Footman James clients, Show Us Your Shed is easy to enter via a form on the Footman James website. Simply complete the competition form with an image of your space and a few words on why you love it. You can then share your entry on Twitter,
Instagram and Facebook, using the #FJShowUsYourShed. Each week FJ will be highlighting entries from across the country on their social media pages, covering the vast variety and styles created by enthusiasts.
David Bond, Managing Director of Footman James said "It's not about how much the 'shed'
costs, or how big it is, but the passion and the personality behind it. If you have framed every tax disk you have ever bought, or devoted a bookcase to a car magazine subscription covering decades, then we want to see it and share your love for it."
At the end of the competition, the Footman James team along with Harry Metcalfe will shortlist all submissions and decide on the one shed that stands out from the crowd.
According to Graham Redrup the TR3OC Jurassic camp is on! Keep a watch on events section for full details very soon, dates are 9th & 10th July 2021.
Rich

09 MARCH 2021
INSURANCE SOLUTIONS FOR THE CLASSIC AND MODERN CAR OWNER
FOR IMMEDIATE PUBLICATION
Insure your modern and classic vehicles under one policy with Flex from Footman James.
Flex from Footman James is a multi-vehicle insurance product which allows you to combine your modern and classic vehicle insurance policies. This means you will be able to enjoy a single renewal date and premium each year. You can insure modern and classic cars, bikes, kit cars, sports cars and almost everything in between.
With a Flex policy, you will receive all the typical benefits you would expect from a modern car insurance policy including accruing your No Claims Bonus on your modern vehicles and cover to attend shows and events for your classic vehicle.
Like any typical Footman James policy, you can also choose to benefit from our FJ+ range of add-ons such as FJ Rescue provided by the RAC, lost keys and legal protection to assist you no matter what arises.
If your classic and modern cars or bikes have different renewal dates, you can still benefit from a Flex policy by adding your vehicles at each point they are due for renewal, resulting in all your classic and modern vehicles eventually sitting under a single insurance policy.
Our Flex policy has been introduced to complement our current Multi-Vehicle and Private Client policies.
For owners of 5 or less modern and classic vehicles, Flex is a straightforward way to place them all onto one insurance policy.
For those with more than 5 vehicles, our Multi-Vehicle policy offers the best solution, with a dedicated account handler who can administrate a larger, more complex collection.
For those with a high-value collection of vehicles, watches, home and marine, our Private Client team can create a bespoke policy that suits your requirements.
To phone us: 0333 207 6329
Footman James is one of the UK's leading specialist vehicle insurance brokers. With over 35 years of experience, a dedicated team and Feefo's Platinum Trusted Service provider status clients are at the heart of everything they do.
I have finally uploaded the 2019 Triple Echo's
Please follow the link on this page:
The 2020 TE's are coming soon.
Rich
Neck Tubes.
We do have some spare neck tubes as you received in the last Triple Echo, these are for sale to club members at
£5 for UK, £6 for Europe, £7 Rest of World, these prices are inclusive of Post & Packing. Please send cheques payable
to "Trident & Rocket 3 Owners Club" to TR3OC, 6, Beechnut Drive, Darby Green, Camberley, Surrey, GU17 0DJ.