We are sad to announce that Bill Crosby has passed away. Bill ran Reg Allen Motorcycles and the London Motorcycle Museum for many years along with being a great supporter of our club. Rest in peace Bill, you will be sadly missed by all.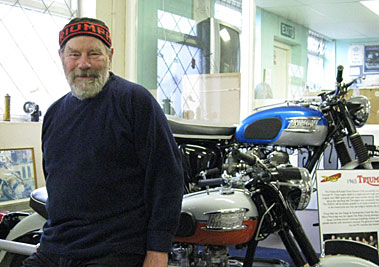 Now 15th and 16th August 2020.
Unfortunately, clashes with Beezumph.

please stay safe everyone.
Richard
***Covid-19***
With the recent outbreak of the Corona Virus, the Committee are continuing to plan for Beezumph for the moment.
Further updates will be posted on here and our www.beezumph.com page when they are known.
Please be safe everyone, hopefully normal service will be resumed in life soon.
Richard
*************
Statement from the organisers of the Scottish Classic Motorcycle Show:
"After much debate and with an eye to the ever changing situation with Coronavirus, the show committee of Ayr Classic Motorcycle Club have come to the difficult decision to cancel the 2020 Scottish Classic Motorcycle Show.
We will, of course, be planning to hold a show in 2021 so, in these isolating times, there is plenty of time to finish those two-wheeled projects and get those polishing cloths out! In the meantime, we wish you and yours a safe and healthy journey through these times."
Race The Waves 2020 Postponed
In view of the continuing escalation of the COVID-19 pandemic, East Riding of Yorkshire Council, in consultation with Backfire Promotions have taken the decision to postpone Race The Waves 2020.
The event was due to take place 9th – 10th May in Bridlington. The decision has been made to ensure the Council can focus staff and resources on service delivery and to respond to the COVID-19 pandemic as circumstances change.
We thank you for your understanding.
Liam van Rijn
Interim Tourism Events and Projects Manager
Tel: (01482) 391669
Web: www.eyevents.co.uk
Twitter: www.twitter.com/eyorksevents
The 31st Scottish Classic Motorcycle show will be held on Saturday 13th June 2020, 10:00 – 16:00. The venue, as usual, will be Ayr Racecourse, Ayr (KA8 0JE).
This year our club with the assistance of TOMCC (Glasgow), will host the guest of honour, the well known 3 x TT Winner Alex George. He will open the show, be present on our stand, present Class Awards and provide demonstrations on the last works Triumph Trident to race at the Isle of Man TT – "Son of Sam".
We wish to support the organisers of the show: Ayr Classic Motorcycle Club by having a great display of additional triples, so why not give your triple a run out and join us, there are about 40 members in Scotland, with a similar number in the North of England, now that would be an impressive Triple gathering. So don't be shy, if you can bring your triple along and if you can't bring yourself along. Anybody who wants to display their pride and joy or just help out on the day would contact either myself, Sandy Sutherland (sandyandmartina@btinternet.com) , Jimmy Gilchrist (jamesgilchristmando@icloud.com), Peter Nicholson (chairman@tr3oc.com) or Martin Rawson
B29 Programme of Events
FRIDAY 14th August
12.00hrs Ride-out Assembly and Briefing.
12.30hrs -16.00hrs Les Williams Memorial Ride Out to BRESSINGHAM light railway/Dads Army Museum
16.00hrs-17.00hrs Noise Testing 1
16.30hrs 18.30hrs Marquee Auto Jumble
18.30hrs -20.00hrs Marquee Presentation by NORMAN HYDE
SATURDAY 15th August
07-00hrs-10.00hrs Riders Registration in Race Control Office (break for Safety Brief)
08.00hrs-10.00hrs Noise Testing 2
08.30hrs-08.50hrs Safety Brief
09.00hrs-13.00hrs Track Time
13.00hrs-14.00hrs Lunch
14.00hrs-17.00hrs Track Time
17.00hrs-18.00hrs Bike Line up and presentations. Prize Raffle
All followed by food and a live band in the marquee later in evening.
Band will be RICKSHAW
This looks like a great event, it will be good to see the Triples in action: