Beezumph 29 is scheduled for Friday & Saturday
29/30th July 2022 at Cadwell Park
These dates are provisional only and subject to change.
More news to follow.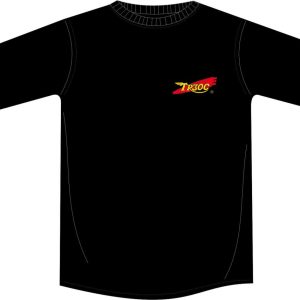 From December 13th new TR3OC Club T-Shirts are available from the merchadise webshop.
The shirts will be priced at £11.00 each, plus Post and packaging.
Available sizes are:
Medium
Large
Extra large
XXL
Following the debate and subsequent vote at the AGM the status of the Facebook page will be changed to that of a closed group. It will be open only to TR3OC members.
The decision to inform you by email has been taken so that everyone for whom the Club has a valid email address will receive this message at the same time. Whilst Triple Echo is the proper method of communication, the concern is that this change will have taken place before Triple Echo is delivered to all members.
The Facebook page will be paused on Monday 29 November 2021 and will remain so until the change is complete.
If you are currently a member of the TR3OC and a member of the Facebook page you will hopefully remain so. However, if you find that you have been removed, please don't take it personally. Carrying out an operation of this magnitude without any issues is unlikely. If you use a nom de plume rather than your actual name there is a high probability that your account will be removed. If this happens, please re-apply to the Group supplying your real name and Membership number along with your nom de plume to the Membership Secretary and you will be re-added.
The Facebook page will be open to all members.
Peter Nicholson
TR3OC Chairman
Paul Smart, short circuit motorcycle racer and Honorary Member of the TR3OC, tragically lost his life in a road traffic accident while riding his motorcycle on 27th October 2021. Paul was well-known for his famous victory riding a Ducati 750 at Imola in 1972, inspiring Ducati to launch a limited edition Paul Smart 1000 LE and for racing a Triumph triple in the Transatlantic trophy races in 1971.
Paul learned the racing ropes at a Charles Mortimer race school at Brands Hatch in 1965. He was a highly versatile rider, successfully racing a number of motorcycles of various capacities from several manufactures including Bultaco, Greeves, Cotton, Aermacchi, Yamaha, Kawasaki, Suzuki and Norton. Paul raced Triumphs, winning the Hutchinson 100 Production race at Brands Hatch on a 750 Joe Francis Commando in 1969. He rode a works Trident to 5th in the 1970 Hutchinson 100, a race won by Phil Read.
Paul raced a Triumph triple in the Transatlantic TrophyAnglo-American Match Races in 1971 and was joint top points scorer on 76 with Ray Pickrell in the winning UK team.Other riders in the 1971 UK team were Percy Tait (Triumph), Tony Jefferies (Triumph) and John Cooper (BSA). In 1973 and 1974 he was captain of the winning UK team, riding a works Suzuki 750 two-stroke triple and in 1977 he rode a Yamaha.
In the TT in the Isle of Man, Paul rode a Norton Dominator to second place behind the Triumph of John Hartle in the Production race in 1967 and in 1969 on a Commando behind Malcolm Uphill (Triumph), with Darryl Pendlebury(Triumph) third. Paul placed third in the Junior TT in 1970 ahead of Uphill in fourth. Paul raced 250cc and 350cc Yamahas in Grands Prix in 1971. Paul was 5th in the final standings in the 350cc World Championship which was won by Agostini. He was outside the top ten in the 250cc championship which Phil Read won.
Paul rode a factory Trident prepared in the experimental department in the Bol d'Or at Montlhéry in 1970 winning the race with co-rider Tom Dickie by 9 laps over the second placed team. He rode the same machine, after an overhaul, in the 1971 Hutchinson 100 (Brands Hatch) and the Production race at Silverstone, placing second in both races. His versatility was evident in his win at Ontario Speedway, California, riding a Kawasaki H2R in the early 1972.
Paul married Maggie Sheene, Barry's sister, in 1971. He is survived by Maggie and their children Scott and Paula. Paul had recently won his battle with cancer. The TR3OC sends deepest condolences to Paul's family and friends.
Photo legend: Paul Smart pursued by Ray Pickrell, Race of the South, Brands hatch 1970
Photo Credit: Bill Riley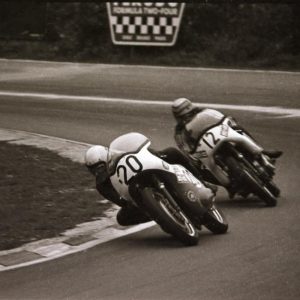 We are pleased to announce that Ton Everaers has taken over as the TR3OC Webmaster.
Contact Ton on webmaster@tr3oc.com
Rich
Due to unfortunate unforseen circumstances we have had to move the Venue for the AGM to The Brewers Fayre, Hinckley LE10 0NF. Start time 10.30.
PLEASE DO NOT GO TO THE TRIUMPH FACTORY. This is an official message from the committee.
Tony Hayward
​It is with sadness we have to inform Club members of the passing of Tony Hayward last week. Tony was a long-timesupplier of Triumph parts and many members will remember speaking with him at length on the phone and at events over the years.
​The Club sends our sincere condolences to family and friends at this difficult time.
Bit of a sound board post, thinking of planning a hotel based rally in east Cumbria,in march or April,so just wanting a rough gestimate to who will be daft enough to drag their pride and joy out in march or April,rooms will possibly be £80 with breakfast so £160 for the weekend
Please email me via CumbriaRep@tr3oc.com if you are interested
Cheers Keith
Please note there have been numerous updates regarding the Lakes Rally event.
Take a minute to check the event description again to avoid disapointment.
Thank you.
UPDATE:
Lake,s rally update 3/4&5 September 2021 nether wasdale
Just for your information on the friday night the campsite are providing chilli and rice with garlic bread, there is a veggi version as well. This will be served at the campsite shop,around tea time i would say.
On the Saturday we will be going for the traditional ride out,which will probably be a 10-30 start time from the camp shop,there is a refreshment stop planned in the route which we will be served either meat and potato pie and peas,or cheese and onion pie,peas. tea and coffee as well price to be announced later for both. As you may have all ready gathered we are eating at the Scree,s hotel on the Saturday evening,the menue is posted on this site and the Tr3oc website,PLEASE make your selection and let me know either via messenger or CumbriaRep@tr3oc.com Due to the numbers there will be 2 sittings for the evening meal starting from 5 pm. Finally will all who are planning to come on the ride out please let me know what sort on pie you would like,as we need to order these up before the day,sadly if you dont order you will go hungry.
The date is 3rd to 5th September
The rally format will be as previous years, a ride out being planned followed by a meal on the Saturday evening.
Arrangement have been made for the Saturday evening meal to be held in two sittings of 25 in the Scree's pub. Please would all members select from the menu choices below, and confirm them please by emailing Keith Berry here;
If you decide to make other arrangements for food it is important that you still register for the event by email, thank you.
The venue for our Saturday night meal has been changed!
Please contact me with your new choice,we are now dining in the sawmill 👍
Lakes menu Saturday night
Starters:
Prawn cocktail
Mushroom soup
Chicken liver pate
Main:
Herdwick lamb chops
Hereford beef
Pan fried trout
Veggi lasagna
Desert:
Sticky toffee pudding
Eton mess
Lemon tart
Cheese board
£20 two courses
£25 three courses