Now available to order in our Merchandise section
We are sad to announce that the great Gene Romero has passed away in the States, RIP Gene.
The Riding Program competition starts on on Wednesday 1st May, e-mail any 40 mile rides to entries@tr3oc.com for us to register your ride. You will be able to view this in a spreadsheet and also track the progress of all the riders throughout the year. I wonder who the first person will be to register a ride?
Don't forget to submit your photographs which will appear on here and in Triple Echo, there is also a chance to win separate prizes for these from the artistic content.
Full details on the dedicated web page here:
Do you want to be part of the action at Beezumph and have you ever fancied riding a race circuit but feel you don't have the confidence or think it couldn't happen for me?  Well it could! You could take part and have two sessions on track at one of the most picturesque and most rewarding circuits to ride in this country, Cadwell Park is known as the "Mini Nurburgring" because of its twists and turns and changes of level which includes the unique mountain!  Sign up for the Entry Level at Beezumph and for £30 you will have two 15 minute sessions on track, one in the morning and one in the afternoon, where you will be taken round by marshals under controlled conditions at a reasonable speed and be shown the best lines round all of Cadwell Parks twists and turns to allow you to experience the thrill and challenge of riding on a race track for the first time.  Entry level is open to any solo motorcycle.  So come on and have a go! All you need is a set of leathers either one piece or two piece zip together, boots, gloves and an ACU approved Helmet and a full motorcycle Driving Licence and away you go!  It's that easy and very rewarding!
If you fancy giving it a go click the following link to take you to our Beezumph booking page for further details: www.Beezumph.com
This year's Beezumph run out on Thursday 25th July will be between 60 and 70 miles for the round trip. We will be having a stop at the Lincolnshire Aviation Heritage Centre at East Kirkby where we will be able to witness the start up and taxiing of the Lancaster Bomber 'Just Jane' in the early afternoon. We will also try and make time for a bit of a look round at some of the memorabilia from Bomber Command they have there, plus there is a cafe for some refreshments.
https://www.lincsaviation.co.uk/
The TR3OC Committee are pleased to announce the band "Rickshaw" as our Friday evening Band.
They play, everything from:- Rolling Stones, Pink Floyd, Gary Moore, Free, Status Quo, David Bowie, Deep Purple, Sex Pistols, Black Sabbath, Kinks, The Who, etc.
Book your ticket now:
The club have launched a new limited edition T-Shirt to commemorate the 40th Anniversary of the TR3OC.
These are available to order in the Merchandise section of the website and priced at £8.50 each plus postage costs.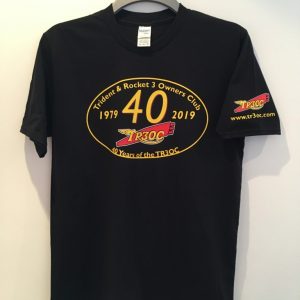 Ian Martin will be coming to Beezumph & will be re-united with his original race bike. Also other bikes in attendance are the Hailwood Rocket 3, Boyer Trident race bike, P & M Trident, & either a space frame or monocoque works Norton Commando. These bikes are confirmed to be there & we are working to extend this list.
Full details of our rally can be found here:
Follow this Link: Beezumph.com

Timothy Randall is going to hold an East Sussex TR3OC meet on the 1st Sunday of every month.
This will take place at the Custom Cafe Bexhill-on-Sea between 3pm and 4.30pm.
Go along and meet like minded people, contact Timothy for further details on 01323 482950.
The location is The Custom Cafe, Barnhorn Road (A259), Bexhill-on-Sea TN39 4QR
The Cafe is very motorcyclist friendly.