Thank you to Julie Turner/Trev at the pub who organised this and Adam Webster and Shane Wagstaff who filmed and edited the footage for this incredible video of us assembling and setting off on our ride out. Enjoy!
Rich
Hi all,
Following an extremely successful event at the Hollybush Inn, we have secured the venue for next year.
These are 15th to 17th July 2022
Hopefully we will be over the COVID situation by then.
Any questions e-mail:
Julie – julieturner012@gmail.com
Richard – website@tr3oc.com
Thanks
Rich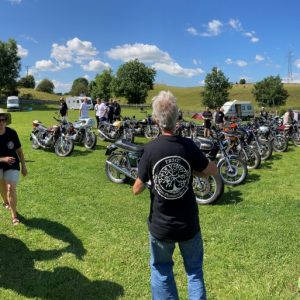 Well done to Dave Ellis who has the ticket.
If you have ticket number White No 36 (serial AS1H FN6D) please e-mail website@tr3oc.com. We have your prize.
If not claimed, we will take it next year.
Nic Davies
The rally is now fully subscribed but we are keeping a list of reserve names in case anyone drops out. If you want to be added, please contact Julie Turner on julieturner012@gmail.com
Thanks
Rich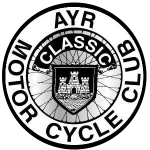 Ayr Classic Motorcycle Club is proud to organise the Scottish Classic Motorcycle Show. This iconic show commenced in June 1989 at Dam Park Hall in Ayr. Over the next 31 years it has developed and moved home as it grew. We utilised Centrum Ice Rink, Prestwick, until it was demolished, then moved out of Ayr to Rowallan Equestrian Centre, Fenwick, before returning to Ayr in 2011 to the luxurious Princess Royal Function Suite at Ayr Racecourse.
Over the years the show has grown to the point where we regularly have over 120 exhibits ranging from pre World War 1 flat tankers through to the Superbikes of the early 2000's. In addition there is an amazing array of trade stands, including those offering motorcycle autojumble. The show usually includes a stunt rider and a parade of selected bikes from the exhibits.
Unfortunately this year, to our disappointment, the show has had to be cancelled due to the Coranivrus pandemic. It is our intention if possible to return next year.
RIP Dick Mann
It is with extreme sadness to hear Dick Mann has passed.
The word legend is used increasingly out of context these days but exactly describes Dick who was competitive in all the AMA disciplines over 3 decades.
The Club and Triple followers will of course remember his 1971 AMA Grand Championship winning year, Daytona and the Match Races. Many members will have fond memories of seeing Dick and Kay Mann at Beezumph 17 in 2008.
The Club's thoughts and condolences are extended to Kay, his family and friends.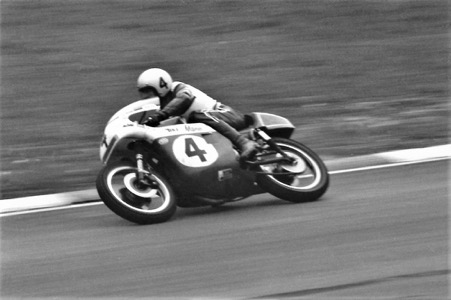 18th International French Triple Rally
September 10th, 11th & 12th 2021
Hi Fellow Triplers,
I'm hoping that the health situation in Europe will finally return to normal during the year so that the 18th edition of the event will take place on the second weekend of September.
The maximum number of registrations is still limited to 90 people.
65 of you have postponed their 2020 registration to 2021, so we only have 25 places left.
 Beyond these 25 registrations, any further applications will be put on a waiting list in case a person already registered withdraws.
The number of accommodation places available on site is now close to zero and the first to book will be the first to be served.
For those who don't wish to camp on the Rally site, a list of local accommodation can be provided on request.
If you are interested in participating in this Rally, please contact me at the following email address:
club-tridentrocket3france@orange.fr
Keep in mind that this Classic Triple Rally is only open for Triumph Trident & BSA Rocket 3 enthusiasts coming with this kind of bike,…. so, no Hinkleys or other exotic bikes, please.
Best Regards,
Georges BOISNIERE
Club Trident Rocket 3 France
1 Chemin des Clous
49220 Montreuil sur Maine
France
We will be running a Rally in Derbyshire near Matlock Bath on the 16th to 18th July which will be in the memory of well known triples enthusiast and club member Paul Fields.
Full details and booking info will be available soon on the events section
Save the date!!
Rich

Beezumph Statement 30 March 2021
Following today's committee meeting it is, with considerable regret and sadness, that I must inform you that Beezumph 2021 scheduled for 20-21 August will not be taking place.
Martin Rawson our events secretary has been desperately trying to come up with some way of keeping the event alive. Various ideas have been discussed at great length, a single day Beezumph, a track day, social distancing measures, if you can think of it we have looked into it.
Various conversations have been had with MSV to try and find a way to hold Beezumph but, truth told, the uncertainty which still surrounds the lifting of the UK's lockdown measures, and what may happen if there is a resurgence of the disease leave both TR3OC and MSV in an impossible position.
As you can see by the lateness of this notice we have tried to keep the event alive until the latest possible moment, the last discussion on the subject being today 30th March 2021 when we held a special committee meeting to try and come up with a workable solution. Having further discussed all our options at length this morning, we feel that the potential for harm to members and guests who attend the event on top of the potential financial loss leave us with no alternative other than to post-pone once again.
We also consider that by trying to save the event we run the additional risk of damaging the event itself and the experience for everyone.
So once again our sincere apologies to everyone, this is not what we anticipated a year ago when we had to cancel, however whilst some sort of end to this may be in sight it has not come quickly enough for us to proceed.
Stay safe everyone
Peter