We have just learned that Percy Tait has passed away. A great racer and in Alex George's words " Proper Legend and Great Guy. Feared by many…LOVED by ALL. " He will be sadly missed.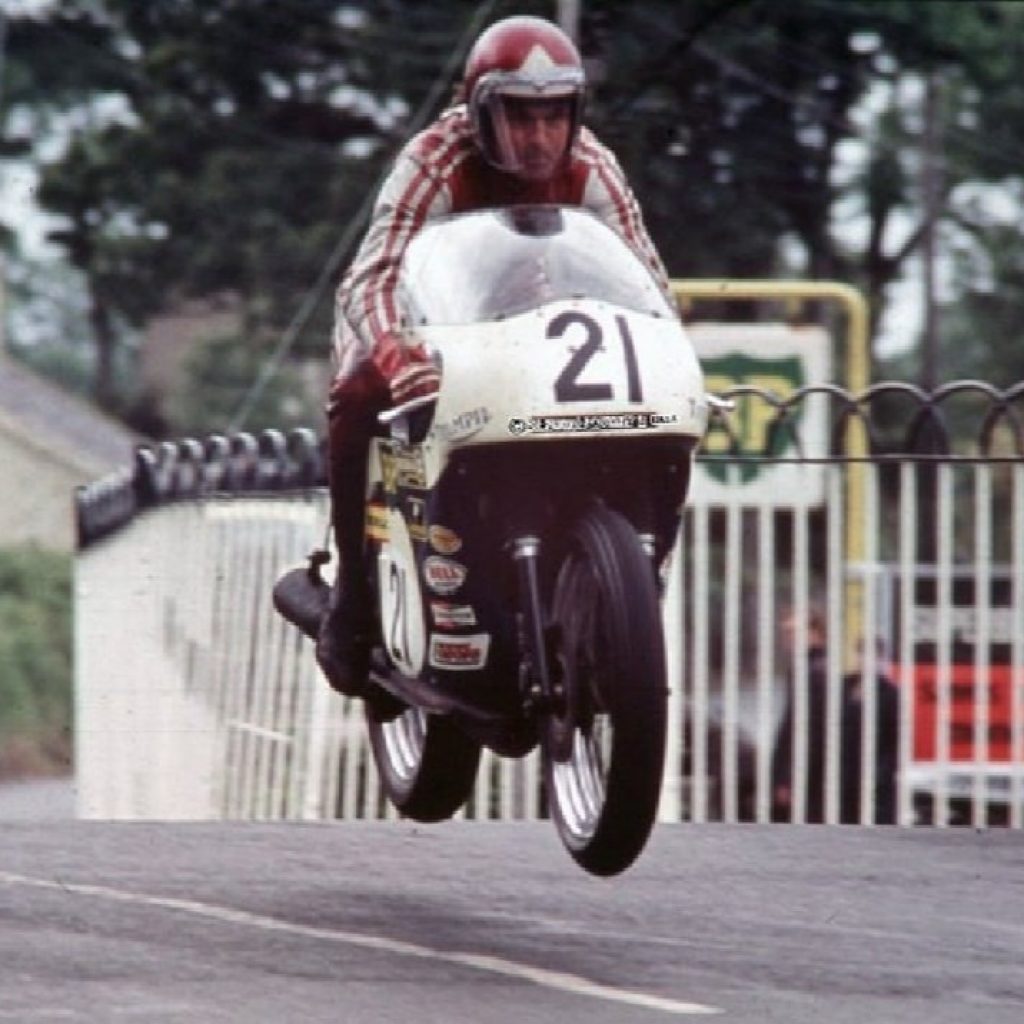 Our events list is looking good for next year, if you are organising any events or think of an event of interest which we can include, please e-mail Martin events@tr3oc.com
View our list of Events Here: :https://www.tr3oc.com/events/
Due to the London Motorcycle Museum closing down we had to find a new home for our Triumph P1 Prototype motorcycle, after the committee exploring many avenue's of where it should or should not be, we decided to approach the Triumph Hinckley Factory, as at their number 2 factory there is a display of many machines, past & present. Dave Bloor made contact with them to offer the machine & after they had considered our offer, they contacted us to say that they would welcome having it as part of their display at the Triumph Factory Visitor Experience.
I collected the P1 from the LMM which was quite a sad experience as they had been the custodians of it since the club got it & I know how proud Bill Crosby was to have it there, but onwards we must go. I gave it a check over & prepared it for delivery to Hinckley & when completed we arranged through Roy Shilling, who had been our contact with Triumph, when we could make the delivery. We set a date for 8th November 2019; Graham Jeffery helped me reload the P1 & secure it in my van to start the journey to Hinckley where we were met by Dave Bloor & Dougy Beardsall as well as Roy Shilling. The bike was unloaded from the van & into the building where Roy will organise its display & create a new information board. The P1 will still occasionally be seen at other locations as Triumph have agreed to us displaying it on club stands at shows etc. should we wish to do so.
I would like to take this opportunity on behalf of the TR3OC to thank all those who made it possible for the P1 to move to this new & most welcome location.
Graham Redrup (TR3OC Secretary)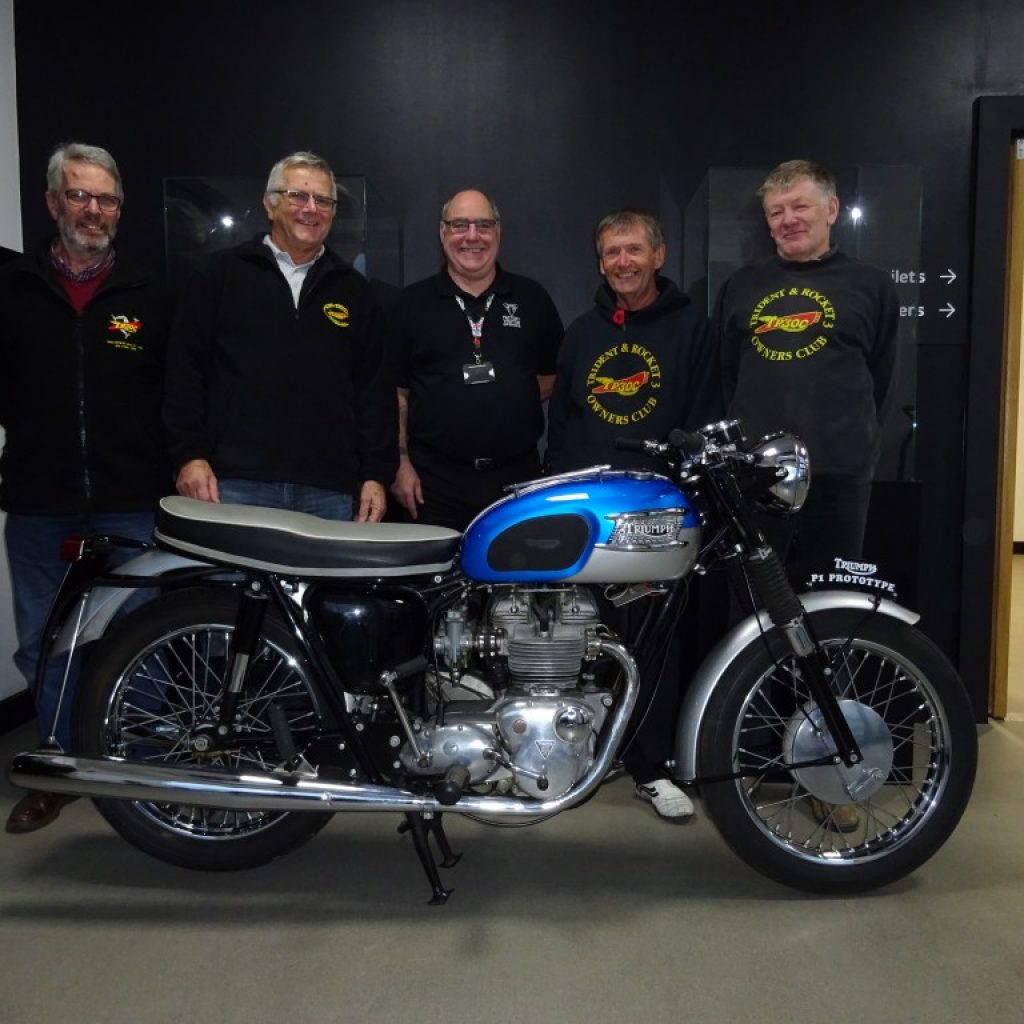 RIP Stan Shenton
It is with great sadness the Club reports the passing of Stan Shenton.
As the proprietor of Boyers of Bromley his racing Tridents,handled by David Nixon and Peter Butler, always gave a good account of themselves, including against the works Triples. Stan's books are owned by many members and his Trident development gave owners access to the modifications and improvements in performance they craved. The use of Seeley frames worked well on UK short circuits. RIP Stan.

Minutes of 2019 TR3OC AGM
Minutes taken by Graham Redrup.
AGM held on Saturday 2nd November 2019 at National Motorcycle Museum, Bickenhill.
Committee members present were; Dave Bloor, Graham Redrup, Dougy Beardsall, Clive Blake, Bob Skinner, & Les Davies.
Apologies for absence were received from; Graham Jeffery, Chris Chapman, Pete Churchill, Mike Klose.
The meeting opened at 12.00hrs. by Graham Redrup (Secretary)
The minutes of the 2018 AGM were proposed & accepted by vote.
OFFICERS REPORTS.
Dave Bloor, Chairman. Dave stated that it had been a good year for the club but also stated the sadness of losing 3 of our notable people, Les Williams, Harry Woolridge & Gene Romero. He touched on the success of Beezumph 28 & thanked Dougy for stepping in at short notice to save the event, he also covered several of the other activities that the club had participated in over the year.
Graham Redrup, Secretary & Machine Registrar. Graham stated that normal secretarial duties had continued, Machine dating had continued to be busy with over £1,000 of income again this year, he stated that he is still getting many requests from members to verify machine details prior to purchase but warned that there had been several cases of incorrect stampings.
Bob Skinner, Treasurer. Bob stated that the club finances were in good shape & a detail sheet would be in the next TE, Beezumph 28 made a small profit & there had been a reduction in expenses this year due to less being spent on website development as well as event support.
Dougy Beardsall, Membership. Dougy supplied all those present with a detailed sheet of the current membership levels & statistics that showed 1158 members, he aso supplied a pie chart showing how the membership is spread worldwide.
Les Davies, Editor. Les expressed thanks to all those who had helped him to settle into the Editor position & requested lots of material, however small, to be sent to him, he stated that this year had been difficult for him for personal reasons but things were better now. He continued with a brief summary of the 40 year riding program & revealed that 55,000 miles had already been recorded.
Clive Blake, Spares. Clive stated that all the information is published in TE & on the website whenever anything new is developed, he stated that he is leaving the committee this year but would continue to pass on the spares information.
MOTIONS FOR DEBATE.
Merchandise. It was stated that now the stock has been run down we will very shortly be starting the new system.
Southern Hemisphere Liaison Officer. We had received an offer from an Australia club member, Paul Wilcocks, to help us in any way he could, the committee felt we should take advantage of this offer & came up with the idea of a central contact for the members within that area, after some discussion the members agreed to go ahead with the position. Paul will also cover the spares for that area.
ELECTION of OFFICERS.
Graham Redrup, Dougy Beardsall, Bob Skinner, & Les Davies were all prepared to re-stand in their current Committee positions, there being no other proposals for these positions, a block vote was taken & carried.
The following proposals were presented,
Chairman – Peter Nicholson
Events – Martin Rawson
PRO – Jerry Hutchinson
There being no other proposals a block vote was taken & carried.
Reports,
P1. Due to the closing of the London Motorcycle Museum it has been necessary to find a new home for the P1 prototype machine, after negotiations we were happy to report that it is going to the Triumph Visitor Experience at Hinckley.
B 28. Dougy reported that although Beezumph 28 got off to a bad start due to a small area for camping it soon improved & actually worked quite well, the ride out was brilliant with a large number of participants, the talk by Neil Spalding was also excellent.
B 29. We have received some provisional dates from MSV for Cadwell Park & Snetterton but still await response from Anglesey circuit, the membership asked the committee to look at Mallory Park to determine suitability for a Beezumph Rally.
ANY OTHER BUSINESS.
The Federation of British Historic Vehicle Clubs. The committee had received a proposal from Neil Spalding to look into the feasibility of affiliating with this organisation due to the current situation & ever-changing regulations of the use of motor vehicles. After discussion it was decided to go ahead with this proposal & the club would absorb the costs involved.
BSA Rocket 3 sectioned engine. At the time of the AGM we did not have a home for the sectioned engine so the membership was asked if they had any ideas for a place to display the engine, they stated that the National Motorcycle Museum would be worth asking. We have now asked them & they were happy to agree to display it.
Facebook & Website. It was brought up that Facebook is regularly getting abusive comments & with the club current membership numbers compared to the Facebook page membership numbers that the majority of those on Facebook are not club members, it was always thought of to be a feeder for membership but this proves that is not happening. It is also felt that the club website is under utilised in some areas & lacks a gallery etc. It was felt that the website needs modernising to bring in these missing areas but at what cost? Enquiries to continue.
PRESENTATIONS.
Founders Cup – Was presented to, Carol & Brian Chapelhow.
Slippery Sam Trophy – Was presented to, Carolyne & George Sinclair.
Transatlantic Trophy – Was presented to, Clive Blake.
Meeting closed at 14.55hrs.
We are sad to announce that Harry Woolridge has recently passed away. After National Service in the Royal Air Force Harry Woolridge applied for a job in the Service Department at the Triumph Engineering Company, and was lucky enough to be selected. Thus began a working relationship with Triumph and its motorcycles that would last thirty years: an experience Harry says he would not have missed at any price. After a few years in the Service Department, Harry joined the team in the Experimental department until he was promoted to the position of Assistant Quality Control Manager. Later, in a reshuffle of titles, he became Inspection Foreman for Motorcycle Assembly and Production Development. With the formation of the Meriden Co-operative, Harry served as Warranty/Service Manager until the factory closed in 1983. RIP.
Re TR3OC AGM 2nd of November 2019 at the NMM Solihull, West Midlands. Access to our room (Crows Nest Suite) will be from 0800 till 1700 Admission to the museum will be FREE to members on producing their membership cards on the day.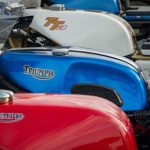 Cadwell Park 25th and 26th July 2019
Beezumph was back at Cadwell Park for the first time since 2015 and was again planned to take place over 2 days but because of lack of availability on weekend days we accepted a Thursday and Friday booking. Initially I had been tasked with sorting the ride-out for this year, a task which I was looking forward to carrying out, in the end with things turning out the way they did I ended up doing a lot more than just the ride-out.
As I live relatively close to Cadwell, just under the hour, I was the obvious choice to attend any meetings and deal with the staff there. We had been given the names of service providers who have all the relevant safety and hygiene paperwork and more importantly Public Liability Insurance in place to provide their services at Cadwell Park. The planned programme was to have the ride out on Thursday afternoon, bike jumble in the late afternoon and then the guest speaker in the evening, Friday was to be the track sessions. A start was made on arranging Marquees, generators, catering, portable loo's for near the Marquee, The bike jumble would look after itself and the speaker for the evening was arranged by Richard Davies. Graham Redrup was sorting the band for Friday Night and Dave Bloor was inviting the Honorary guests. There was also a PA system and a way of showing a power point presentation needed. A few thoughts were going through my mind for the ride out and one idea I had was to head to the North of the county and incorporate a stop at one of in my opinion the best Fish and Chip Restaurant on the East coast, but then I thought where do you find parking for hopefully 60 plus motorbikes? So thinking logically that was a non-starter! I then resorted to the maps and looked around the area of Cadwell Park and remembered East Kirkby and the Lincolnshire Aviation Heritage Centre which is a few miles South near Spilsby. This I thought would be an ideal place to stop off. I rang the centre up and asked them if the Lancaster was being run up on the day we planned to drop in and very luckily for me it was to be run up and Taxied on the 25th July, so at this I booked a party of 60 people in. Result! I then worked the route out round the visit to the Aviation Centre. There were still lots of other jobs to be done before we got to Cadwell but it was fast looming up!
A last check with the suppliers the week before we were due to be at Cadwell made sure everything was set for B28. On Wednesday 24th I went over to Cadwell in the afternoon to check everything was as it should be, I had been concerned about the relatively small area we had been allocated for the campers on Friday night after the BBQ and Band, after I was satisfied everything was set up as planned it was back home to load the trailer and car up with everything I needed with me. Thursday morning dawned and with the forecast of one of the hottest days on record I hooked the trailer up, kissed the wife and set off for Cadwell. First job on arrival was to find Graham Redrup and Dave Bloor, just to make sure there were no problems. The Circuit Manager had been trying to get hold of me with one or two little problems so I went to see him and iron things out. The merchandise Gazebo was set up in the paddock to sell B28 tee shirts and other club merchandise. It was now getting close to the time we should have been assembling for the ride out, so another visit to the circuit office to ask if they could make an announcement asking for riders to assemble at the top of the field at which point I was handed the key to the paddock office and told where the microphone was and how to operate it and to bring the key back when I had finished!
The newly named 'Les Williams Memorial Ride Out' assembled, this will now be an annual event. Richard Davies gave a briefing to all riders on how we were going to operate the ride out with the second man drop off system and at approximately 12:30 we set off in blazing sunshine and with the mercury very high! The run down to East Kirkby passing through Horncastle was uneventful if a bit hot. On arrival at East Kirkby we all pulled up and parked under a line of trees the shade being very welcome. A video was put on Facebook of us all pulling out of the assembly area at Cadwell and I counted 65 bikes setting off, and there was a couple of riders met us there. A total of 79 went through the door of the Aviation Centre. The Lancaster 'Just Jane' was still in the hanger when we got there and the staff were working on it. Eventually they pushed it out into the sun and what a beautiful sight it was, everybody was cleared from behind the aircraft and the starting procedure began, engines started one at a time until all four were running and checks carried out ready for taxiing. When the pilot was happy the revs built and 'Just Jane' started her performance, the noise from those four Merlin engines is almost as good as a triple on an open mega! Once the running was completed we gathered ready for moving on with the run all of which went without hitch, after we left the Aviation Centre we turned North East for a few miles before turning North and heading for Louth and then from Louth the short run back to Cadwell in all we had done just short of 60 miles.
Once back at Cadwell it was time to set out the tables for the bike jumble for members to buy and sell their treasures.
After the jumble the marquee was set up for the guest speaker who was Neil Spalding who is an author and Moto GP technical Journalist. I had never heard a talk by Neil before but knew he gave good talks and I definitely wasn't disappointed, his talk was absolutely brilliant and as someone commented on the club web page, we were in a field but you could have heard a pin drop such was the interest he created with his talk and knowledge of his subject. Neil's talk brought the days proceedings to a very good conclusion.
Friday we woke to a fine morning and the prospect of a busy day. Signing on and noise testing began as scheduled at 07:30 all carried out by Cadwell Park staff. The briefing held in the clubhouse between 08:15 and 08:45 given by Graham Redrup, followed at 09:00 by the track opening and the sessions beginning. I was booked in to ride in the Classic group and was also marshalling the first two laps of the first session of every group and also the entry level riders. Pit lane crew made sure all groups were dispatched in an orderly and timely manner by Graham Redrup, Clive Blake and Elliot Blake. After lunch there was a 10 minute unsilenced parade of a few racing machines, these included the BSA Rocket 3 which is owned by Mike Braid and a Norton Commando also owned by Mike Braid, an ex Carlos Checa WSB Ducati, a 500 3 Cylinder MV Agusta the same as Agostini raced and Mark Gelsthorpe's 'Flying Merkel' board racer, this was an entertaining 10 minutes and great to hear race bikes unsilenced, this was a dispensation given by Cadwell for 'Parades Only' with restrictions! Track sessions started again after the parade and carried on until the track closed at 17:00 hrs. After the track sessions were over preparations were made for the band 'Rickshaw' and for the BBQ in the marquee. The bike line up was formed in front of the marquee and judging carried out for all categories, the raffle was also held outside the marquee with a good range of prizes some bought by the club and others which were donated by organisations approached by the club. We are pleased to see Jim Smith's luck in the raffle is holding out! Although I had to leave Cadwell before the band started I was told that they were one of the best bands we have had at Beezumph playing a wide variety of music and being very popular with the crowd.
Merchandise sold fairly well and a massive thanks go out to the volunteers who selflessly manned the stand over the 2 days for no reward!
A big big thank you from me and the rest of the committee.
Dougy Beardsall
Videos Richard Davies and Angus Campbell
The club AGM will take place on Saturday 2nd November 2019 at 12 midday prompt.
The location is the National Motorcycle Museum, Coventry Road, Bickenhill, Solihull, West Midlands
Sat Nav Postcode : B92 0EJ
This year it is AGM only, there will be no evening meal or entertainment, more information to follow.
If anyone has any proposals or are interested in any of the open committee positions, please contact Graham Redrup secretary@tr3oc.com

,
Something a little different for Beezumph 28 this year, the Friday parade lap will feature Ian Martin Trident, Hailwood Trident, Spaceframe Norton Commando, Carlos Checa 1098 World Superbike Ducati, 500 MV Augusta triple as ridden by Agostini