Frank Melling at Beezumph
Frank Melling at the Beezumph Rally, Friday evening speaker – 9th September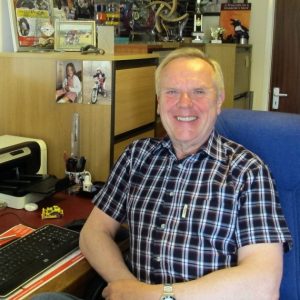 Frank Melling is the author of 14 books and over 1200 feature articles. His 2015 book, "A Penguin in a Sparrow's Nest", is an Amazon best seller and has been widely praised for its hilarious, insider's view of motorcycling in the late 1960s and 1970s.
Frank rode works Triumphs and became close to the legendary Doug Hele. Melling knows the true story of the Trident, and how it came about, and he'll share this with us.
Then there are tips on the best way to cut a gate in half – with a factory Triumph!
Frank also knows how to put on a good show with a BSA Speedway bike – inside the factory – and the importance of having new Hush Puppy suede shoes if you are ever going to attempt this.
He'll also tell us about coming within a few seconds of being trapped inside BSA on the day the factory closed – and there's no James Bond film with a more exciting ending!
Unique stories told with a unique style make this show an unmissable experience.
For more information about Frank's books go to www.frankmelling.co.uk