Das Motorrad – 47 years on by John Young
On 2nd May 1969, the German motorcycle magazine Das Motorrad rode a T150 Trident from Vienna to Hamburg to test the high speed / long distance capabilities of the bike.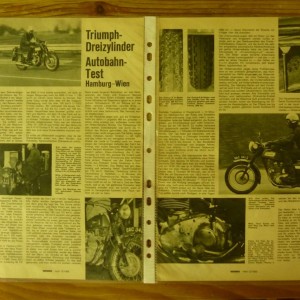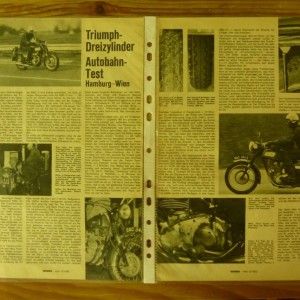 Originally this test was to be ridden on the 19th April, but snow and ice meant the ride was aborted, which is lucky ……… because this year, the 2nd May is the early May Bank Holiday here in the UK.
So, this is the proposal:
Assemble in Vienna on the Sunday (1st May). Things like hotels etc can be arranged once I gauge the response. It's only 800 miles from Calais, so perfectly feasible for a days ride there.
On the Monday, the Vienna – Hamburg "recreation ride" will take place. Again, it's about 700 miles between the two cities, so for a triple, a "full" days ride, but that's all. You can ride at your own pace, stopping as and when you like – but the object would be to arrive in Hamburg on the Monday evening
Again, hotels in Hamburg will be arranged once I know how many people are interested in this.
On the Tuesday we come home ….
Now clearly since it's a Bank Holiday weekend, you might want to add a couple of days either side of the "memorial ride" – but that's up to you.
You don't have to use a "proper" triple, but it would be nice to replicate the ride on as many triples as possible.
So far, three people have committed to join me but if you would like to take part in this great adventure contact me, John Young on johnsonia@adamsyoung.fsnet.co.uk