Bob McIntyre Classic
The Bob McIntyre Memorial Classic Races Weekend
23rd to 25th June 2017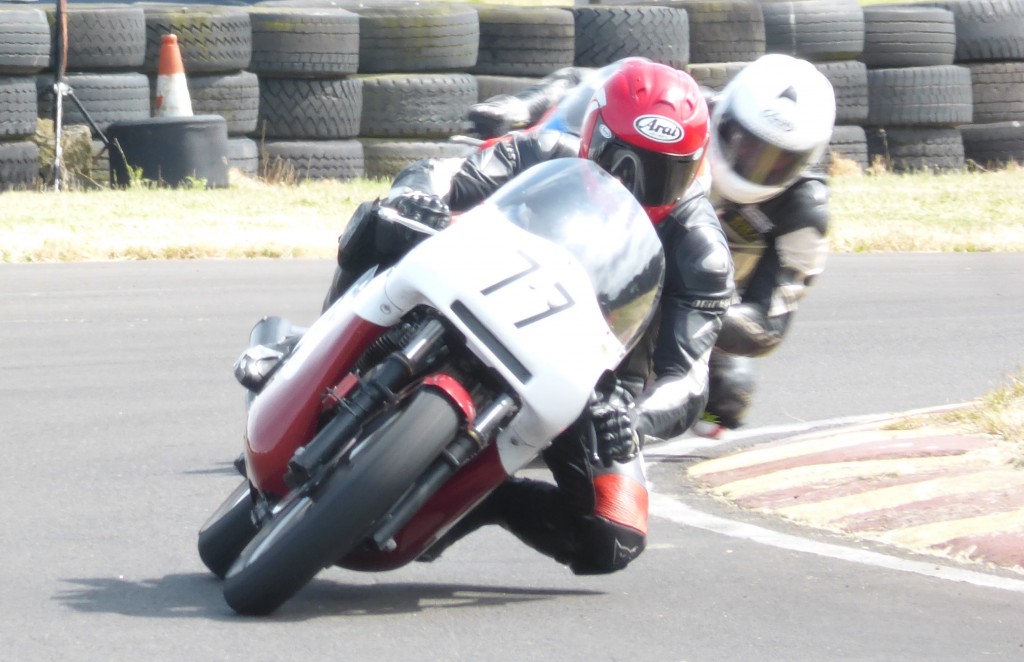 This annual race event, held at East Fortune Race Circuit, East Lothian, is the biggest event of its type in Scotland and well supported by classic racers from across the UK and further afield, with two days of racing and parade laps which include a range of interesting and exotic bikes. The Club has arranged an event around the races, which includes a run around the Borders as well as a visit to the races.
Accommodation can been arranged at the Glentress Hotel at the preferential rate of £25/night B&B (sharing a room, payable at time of booking). Look it up on line under Bony's Steakhouse and Grill, and book direct with the Hotel on 01721 720100, mentioning that you are part of Martin Rawson's TR3OC party. Some members have already booked.
The plan is for everyone to arrive Friday afternoon, then as Friday 23rd is only two days after the summer solstice and evenings are long, have a short evening run to Biggar (20 miles) for a chippie tea, followed by a visit to the Leadburn Inn, a well known biker-friendly pub (18 miles) before returning to the hotel for a well earned drink and some craic.  (11 miles).
On Saturday, there's a day riding around the Borders, with two museums of interest as stopping points. Both museums are small so not too time consuming, and both are free entry. Leaving the hotel about 9.30-10am, its just over an hour to Duns, with our first stop at the Jim Clark museum. Then either continuing on to the coast, with a photo opportunity at the Holy Island ( a further 40 minutes) and a lunch stop, or, depending on weather and stamina on the day, directly back by the same return route of Coldstream, Kelso, Jedburgh and Hawick. We plan to visit the Hawick museum, which contains exhibitions about motorcycle racers Jimmy Guthrie and Steve Hislop. If we go as far as the coast its about 155 miles in total, taking about 4 hours riding.  If we choose the shorter route of Duns to Coldstream and miss out the coast detour, its about 112 miles or 3 hours riding. Comfort and coffee stops as required. If the hotel food looks good, and it does seem to be, we can return back to the hotel for dinner in the evening or alternatively find somewhere in Peebles. Roads are a mix of A and B roads and some of these roads are recommended on bikers' web sites, so should suit our bikes well.
Sunday leave about 9am, or earlier if people are keen, riding to East Fortune for a day at the Bob McIntyre Memorial Classic Races (42 miles, 1 hour). Triple-engined solos and sidecars are well represented, with several club members involved in the races and staying at the track all weekend. The pits are open so there's plenty opportunity to chat about triples and learn a few tips about tuning.  Lots of other interesting machines either racing or on the parade laps and the sounds are, of course, glorious.
People can then depart for home as and when they feel ready and depending on distance to be travelled.
If anyone wants to attend but is unable to join us for both nights then please feel free to book up one night only, just make sure we know you're coming on either of the runs. Same applies to anyone who lives close enough that they can just join us for the rides. All are welcome.
If you want any further details, or are planning to join us, please contact Martin Rawson at events@tr3oc.com.