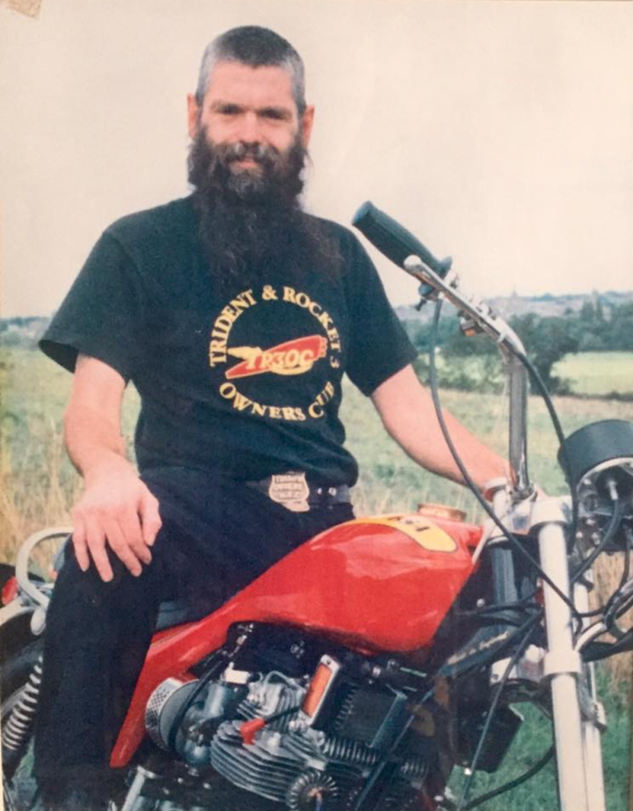 The club has been contacted by Julie Simmonds, the sister of John Simmonds to tell us that he has sadly passed away.  Julie went on to explain that John had been an area representative for the TR3OC Oxfordshire area.  Some of you may recall his enthusiasm for the Hurricane.  Julie was trying to purchase two club t-shirts for her sons to wear as a tribute to John and was having trouble finding stock.  The club has therefore donated two shirts and at Julie's request published the following note from her:
The T-shirts came today, the are great thank you so much. My boys will look the part when we go up to Yorkshire next week for Johns funeral. There will also be a service in Oxford on the 10th April and then the ashes will be interned at Goring, I don't know if there's any way of sending this information out so if anyone knew John and wanted to attend they would be most welcome. My sons will be going on their bikes (Ninjas unfortunately) and we are looking to try and contact some more of Johns biker friends through a local garage owned by Dave Clark.
UPDATE RECEIVED 7th APRIL from ALEX SIMMONDS:
Hello my father passed away suddenly at home in Yorkshire on the 12th march . We had a funeral service in Yorkshire and cremation on the 29th march. He had a Triumph motorbike hearse that took him to the church and then crematorium. My mum was allowed to ride as a pillion. His coffin was amazing with pictures of him and his bike on it. We are having a memorial service with his ashes in St Mary's and St Nicholas church Littlemore Oxford on the 10th of April at 11am. If anybody would like to come we would much appreciate it, all bikes welcome .
Tom Concannon will very soon no longer be in a position to continue as Merchandise Secretary.  He has done a great job for the club for the past three and a half years for which we are all very grateful.
The role is multi-facetted and provides an essential service for club members.  We sell a range of merchandise via the webshop, through mail order and at the various shows we attend.  We have a wide range of products and keeping the range current and interesting for club members is a vital part of the role.  The size and scope of the product range is also under review and likely to be rationalised to make it easier to manage and operate.
It is always difficult to find new members to be part of the TR3OC committee and the implications of losing a Merchandise Secretary are particularly serious.
 If nobody comes forward in time we are faced with having to suspend all webshop and mail order sales and putting the stock into paid storage at a cost of almost £1,000 every three months.  We would still be able to bring stock to shows, but apart from that many members will lose the ability to buy merchandise and the club will lose money.
This is obviously not where we want to end up, so if you think you might be able to help then please get in touch with a committee member.   There is a great deal of flexibility about how we fulfil this role; we could appoint two people for example with one running web sales and the other managing the overall stock and supplying packages of product for the shows.  So please do contact a committee member if you would like to be involved in any way.
Richard Davies has been working on a new format for the AGM to make it more attractive for members to attend.
This year's AGM event will be held on Saturday 11th November 2017 at the Marston Farm Hotel, starting at 1pm prompt with a break in the middle for refreshments.
For those that want to stay longer, after the AGM there will be time for a social drink in the bar, a trip down to the local pub which is a short walk away or a chill out before the evenings proceedings. We will then re-convene around 7pm for a pre-booked three course meal with a choice from the set menu, which is priced at £20.00 per head, followed by some entertainment which will soon be announced. Rooms will be available to book directly with the hotel priced at £65.00 Single Bed & Breakfast or £80.00 Double/Twin Bed & Breakfast. These are purely on a first come first served basis as there is limited availability at this special rate, please quote "TR3OC" with your booking to ensure this price.
The date coincides with the Classic Motorcycle show at the NEC, so anyone who wishes to make a weekend of it can visit this event on the Sunday. Please come along and support, this is your club, have your say or just socialise!
Meals pre-booked only contact: Richard Davies – pro@tr3oc.com 07815 190042 with menu choice, last orders for food 20th October '17, pay at event.
Rooms pre booked only contact: Marston Farm Hotel,  Bodymoor Heath Ln, Sutton Coldfield B76 9JD
Phone: 01827 872133 quote "TR3OC"